Google has recently launched Analytics Intelligence which carries with it a suite of powerful tools. Now, using plain text, you can ask a question you'd like the answer to or allow Google to identify abnormalities that are impacting the performance on your website. The Google Analytics experts at Marcel Digital and I outlined how to access these features, as well a an overview of both the Intelligence and Insights features.
How To Access
Navigate to any standard report and select "Intelligence" at the top right of the report above the date selector. This will then open a sidebar on the right.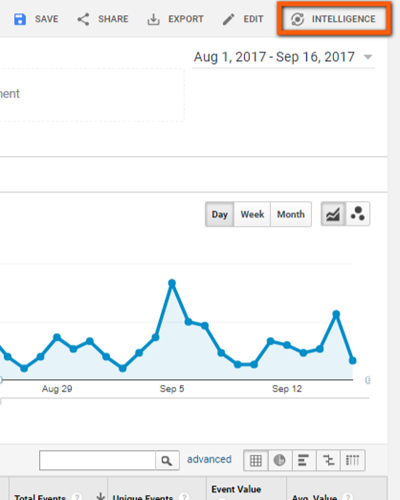 Insights
The Insights tool surfaces actionable insights and identifies abnormalities in your data. Powered by machine learning and forecasting, we've seen anything from lists of poor converting paid landing pages, spikes in traffic to certain pages and milestones highlighting all-time highs in performance.
In one case, we received an alert that a top page loads slower in the most recent month (indicated in the screenshot below). When selecting the abnormality, Google outlines the page(s) in question, a snippet about why page speed matters and finally a link to its Mobile Site Speed Tool to tell you how to fix the speed issue.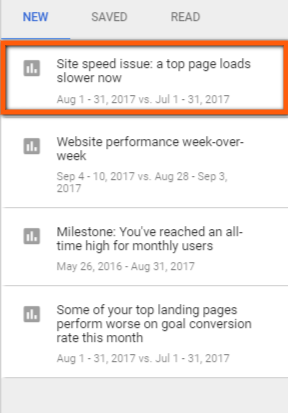 We can only imagine what this will look like in the months to come.
Intelligence
Intelligence allows GA users to ask questions and apply segments through natural language. In the screenshot below, I've highlighted the search bar you type your question into. In this example, my search query was "How many organic users last month" and Google answered that in a clean, easy to understand format.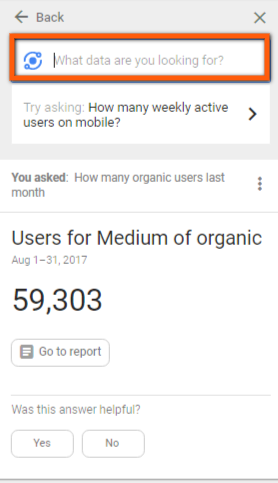 For Google Analytics users who may not be as familiarized with the interface, Intelligence is a great way to find the information you're looking for and Google also includes a link to the report so you can drill down into your data.
The types of queries one can search are continuing to grow. Here are some examples of the types of questions you can ask.
Let Us Know If You Have Questions
This is the first of many steps Google is taking in ways of Artificial Intelligence. On its own, it's a very powerful tool but not enough to get the full picture. If you'd like to learn more or have any questions, contact us to learn how we can help you understand your data by looking into what's happening both on and off your website. Our Google Analytics experts are standing by!