Articulate is a powerful blogging package, built on Umbraco, with a vast variety of features such as tags, feeds, author profiles, and themes.
It is easy to install and powerful to use; upon installation, preinstalled themes are also automatically included. However, further customization for getting blog themes and templates to work with already-existing Umbraco templates may be confusing for first-time users. Therefore, to make life a whole lot easier, here are the steps to successfully make your Articulate blog share your Umbraco website's exact look and feel.
Getting Started
Install the package.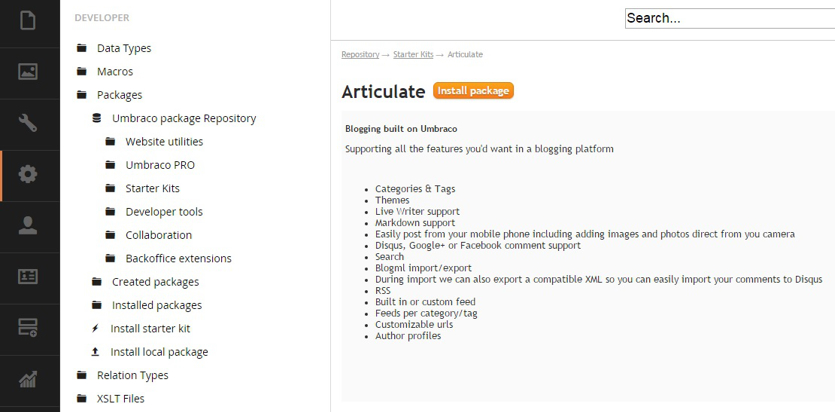 You will then notice some new folders and files underneath the "\App_Plugins\Articulate\Themes\" directory. All Articulate theme files will be within that directory and that is where we will be focusing on.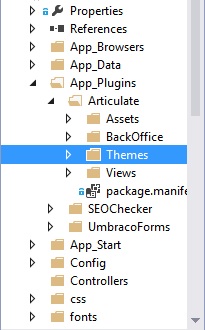 Creating A Theme
Under that same "Themes" directory, create a new folder with the name of your theme and then create a "Views" folder under that newly created folder. As the end result, you should have "\App_Plugins\Articulate\Themes\ExampleTheme\Views\", assuming the theme name is "ExampleTheme" in this demonstration.
Then, create two view files under that "Views" directory, called "List.cshtml" and "Post.cshtml".
Lastly, we need to use this new theme within the Blog node, from Umbraco's "Content" tab. To do this, select the top-level "Blog" content and navigate to the "Style" tab. You should see the newly created theme automatically added as an option. Then save and publish with the appropriate "Theme" property to use.
Allowing Compatibility With Umbraco Themes
In order to have an Articulate view successfully reference an existing shared layout, the "Model" object (across all Umbraco and Articulate views) must be used correctly and have the proper type. Ensure all referenced Umbraco views (shared, partials, etc.) utilize this new inheritance: