Websites have many different pages and pieces of content that serve different purposes for your sales or lead funnel. For instance, a product page's success will be measured by a different set of metrics than that of your blog posts and your hospital's appointment request page will be measured differently that your conditions or procedures pages. Luckily, grouping pages together that are measured by the same metrics can make your reporting more efficient and streamlined to help you see what pages or sections of your website are performing best, and which are lacking.
But how do you do it?
What Are Content Groupings in Google Analytics?
Content groupings are frequently an unused feature of Google Analytics that help segment various pages of your site to allow you to drill down into them individually. For an eCommerce site, this could be the categories of products you sell (ex. Men vs. Women). For a hospital or university, you could break down your website by departments (ex. Oncology vs. Bariatrics).
Content groupings allow you to leverage them as primary dimensions in various content reports. Quickly find which sections of your website are performing the best and drill down into the individual URLs for deeper granularity in your analysis.
This does come with limitations. With the free version of Google Analytics, you are allowed to create up to five content groupings. Within each of those groupings, there's no limit to a number of sub-category groupings you can create.
How to Setup Content Groupings
There are three different ways you can set-up content groupings (can also be used in tandem with each other):
Tracking Code: This approach requires you to modify the tracking code on each page you want to group. This is likely the most tedious way and I suggest using one of the following approaches.
Extraction: Setting up content groupings allows you to identify pages by either the title or the URL.
Rule definitions: You can use the rules editor to identify different pages of content you want to be grouped together.
Setting Up Content Groupings In Google Analytics
Once you've determined the best way to tag your pages, here are the steps to set up within Google Analytics:
From within Google Analytics, go to your admin page and select "Content Groupings" under the View column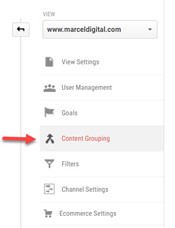 Click the red box "+New Content Groupings" and name your grouping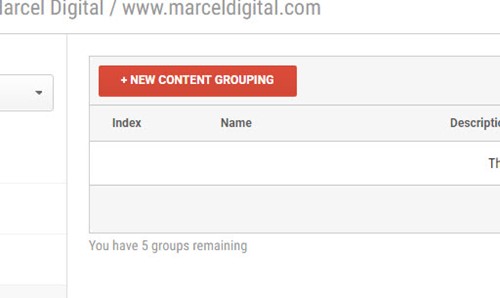 In order to identify the pages for your section, you'll need to use one or more of the following approaches.

Group By Tracking Code: Mentioned previously, you'll need to modify the Universal Analytics Tracking code on each page you want to be grouped
Add Extraction: Here you can select the "page" (aka URL) or "page title" dimensions to initiate your regex formula.

To learn more about regular expressions, visit this link

Group Using Rule Definitions: This still requires you to use the "page" or "page title" dimensions but this approach allows you to create rules (and/or) to define the pages you want to group.

Note: be wary of the order of your rules and the prioritization used can dictate what's captured (or not).
To confirm you set up your content groupings properly, navigate to your Behavior Reports > Site Content > All Pages and select the content groupings above the secondary dimension. You'll see a content group titled "not set" that will house all the pages not grouped elsewhere.
Conclusion
As stated before, grouping your pages together by similar success metrics will help you minimize your reporting times and will also help you get a high-level perspective of those pages or sections performance. Google Analytics Content Groupings are a great way to logically structure your content and quickly drill down to individual URLs, titles, and screen names. Take advantage of Content Groupings to get the most out of your performance data and reporting today!
If you have any questions about your Google Analytics setup or how to create Content Groupings, our digital marketing experts are standing by and ready to answer any questions you may have. Feel free to drop us a line or to leave a comment below - we're excited to hear from you!