Website Testing with Umbraco CMS
Our goal as marketers and website owners is simple – we want to drive more engagement and conversions on our website by continually aligning our visitor's needs and our business goals. Unfortunately, many times we find that the result of our efforts does not meet our expectations or projections, and it leaves us wondering why this is happening, where the pitfalls are on our website that make this happen, and how can we best alleviate those obstacles for users to increase overall website engagement and conversions.
Luckily, Umbraco CMS makes it super easy to integrate tools that help you collect more in-depth, actionable data about where conversion pitfalls are on your website, as well as integrating your favorite website testing tools, allowing you to get the full scope of how exactly visitors are using your website and how potential changes you make on your website will affect conversion rates.
Below, the Umbraco web development experts at Marcel Digital show you different ways the Umbraco CMS makes website testing easy as possible…
Getting & Analyzing the Data
Collecting and analyzing the data you need to turn your Umbraco website into an engagement and conversion machine is simple. Whatever website analytics platform you use (we're a little biased as a Certified Google Analytics Partner), it can quickly be installed on your website via the source code or Google Tag Manager to begin collecting data in minutes.
Quantifiable Data with Google Analytics and Google Tag Manager
There's no doubt about it that when it comes to a website analytics collecting and reporting tool, Google Analytics is king. Not only will you get data about what marketing channels visitors are finding your website from, but you'll also get actionable insights at how they are using your website and what pain points they are encountering most on your website.
To do this, we look at metrics like:
Source of traffic (where did users come from?)
Bounce rates (percentage of users that left before taking an action or going to another page)
Time on site (how long did users spend browsing the website)
Conversion rate (percentage rage of users who converted on the website, such as made a purchase or filled out a form)
Exit pages (on what page did they leave the site?)
Analyzing this data can help you understand what pages are getting the most traffic, how users are engaging with them, and most importantly, if they leaving the website before taking an action and where. While this data is invaluable from a metric standpoint, you can take this data even farther.
Unlocking Visual Data with Hotjar
As a Hotjar Founding member, the usability and conversion experts at Marcel Digital install Hotjar on all of our client Umbraco websites to take data collecting a level deeper with easy to read and digest visual data. What's visual data you ask? Oh, you're going like this.
Visual data are heatmaps…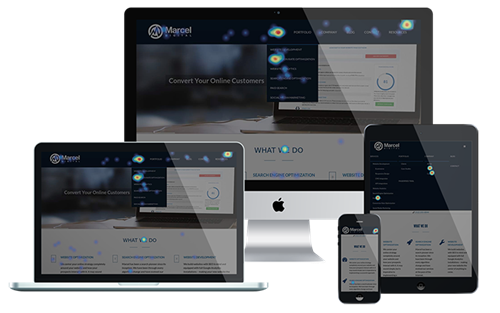 Visual data are user videos…
Visual data are user surveys…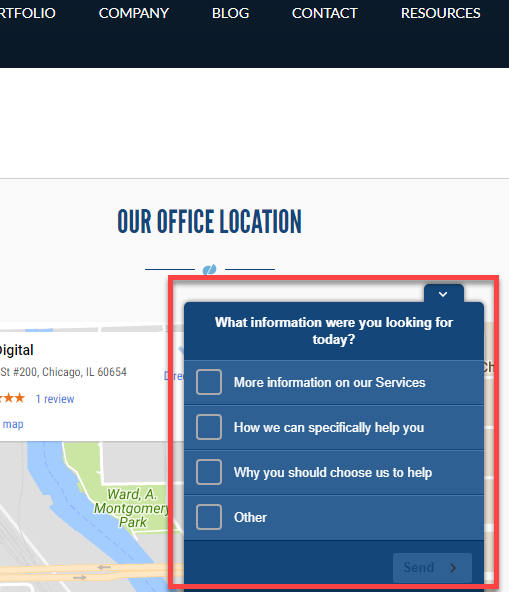 Leveraging these visuals means that you'll get data straight from the source – your users. You'll be able to quickly assess if your page layout or design is:
Confusing
Nonintuitive
Overwhelming
Loading slowly
Hiding calls to action out of the user's view
Lacking proper calls to action
And so on. Visuals take data you collect in Google Analytics and brings it to life, telling the whole story, and giving you a clear view of how users are actually using your website, allowing you to prioritize what needs to be fixed on your website.
Testing the Hypothesis
Now, you have all of this great data collected and you think you've figured out the reason (or reasons) as to why users aren't converting on your website, but can you be sure that's really it? What if your proposed changes don't change the conversion rate, or worse, drive them down further? What if you could test your website changes before implementing them to see how they perform?
Luckily, website testing platforms can easily be installed on your Umbraco website to get full scope of how your proposed changes will perform against your current web pages.
Start Testing Your Potential Changes
To do this, we partner with tools like Visual Website Optimizer (VWO) and Optimizely to help us get the most accurate data performance for proposed changes to a client's website. As ConversionXL Certified CRO experts, we always stress the importance of testing any changes you make to your website before making them 100% live. Doing so will give you a greater level of certainty that your changes will result in higher engagement and conversion changes.
Leverage the Power of A/B Testing
Using VWO or Optimizely, A/B testing can be leveraged by presenting two versions of the same web page to see which one will ultimately result in higher engagement and conversions. To do this, traffic is split 50 / 50 between the current page layout on your website and another page with your proposed page changes. During the duration of the test, data is collected to see how each version of your web page is engaging your audience and resulting in more conversions. The version that ultimately performs best will then become the live version of your web page.
Here's a design to help explain: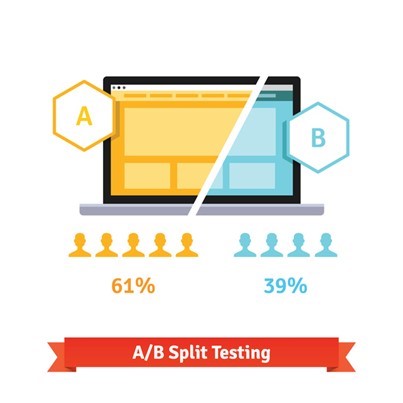 While there are different types of CRO tests that can be ran aside from A/B testing, such as multivariate (testing multiple page element variations at one time) and split URL (tests that are ran more for website redesigns or landing pages) tests, we recommend running A/B tests to give you a more in-depth view of what individual elements on your page have the greatest effect on your users converting. Doing so will also help better guide your team moving forward on how to lay pages out or what pieces of content resonate the most.
Also, Umbraco offers a package called uSplit that can help you run tests on your website if you're looking for a more Umbraco focused solution!
Implementing the Changes
The best part of Umbraco CMS is that its open-source, so it means no matter how large or small of a design change you may have, your web development team can easily update the code and create the exact website experience you want. It's important that when you begin any website testing campaign that you focus on what goals you are trying to accomplish. Are you trying to get more leads or sales? Or are you just trying to better engage your audience?
Going through this process will better guide your testing strategy, from analysis to hypothesis, design to testing, and analysis and next steps. Umbraco's ability to integrate seamlessly with best-in-class tools will help make your website testing campaigns more efficient and effective, give your target audience a more fruitful user and conversion experience, resulting in more leads and sales for your business.
At Marcel, we are the premier Umbraco Certified Gold Partner. Learn more about Umbraco by signing up for our email alerts or contact us today by submitting a contact form!