The rise of the internet and multiple marketing channels has made every industry more competitive. It doesn't matter if you're selling used tires or iPads, all industries felt the presence of bigger competition as more and more people accessed the internet and advertising avenues opened. While it leveled the playing field in terms of the internet being a marketing "Wild West", it also allowed for big brands with big budgets to grow exponentially faster than their smaller competition with more modest budgets.
Unfortunately, that's the way the world works. Bigger money makes a bigger impact, but it doesn't mean that those with smaller pockets can't make just as big of an impact at a more direct level.
Below, I outline a few tips to help your brand make a powerful impact without being the "big" brand in the industry. If you pay attention and focus on efforts like those listed below, you'll begin to see incremental improvements in your online visibility, and hopefully, your bottom line.
Join the Discussion
One of the greatest strengths of being a small to medium sized business is the accessibility you provide to your customers. Every member of your team can be considered a brand evangelist and can be participating in the discussions that your target customers are having. But, how do you find them?
Here are a few tips:
Identify who your target audience is
Identify where they get their information and conversating
Identify how they get their information
Identify what language they are using
Identify when they need information
The above research will help you pinpoint where your brand's focus should be when it comes to participating in industry discussions. It will help you identify what issues or problems your audience are having when it comes to your industry, and it will allow you to apply your expertise to help remedy issues as an industry authority. You can do this through answering questions, building content on your website, or advertising on relevant websites.
Remember, audiences and customers don't follow brands, they follow the people behind the brand. The more you can humanize your image and become accessible to your target audience, the more likely you are to beat out big brands that have established themselves as nothing more than a logo and a "big brand". Take advantage of building your brand as an accessible, humanized brand that answers questions, helps their customers, takes feedback, and strives to build itself with the help of it's audience. You'll win each and every time.
Build Your Local Presence
If you're a local brand or you service a particular area / region, search engines provide numerous resources and tools to help your business make a real impact at the local level. It's imperative that you take advantage of the local SEO opportunities that have been provided, especially as mobile device search becomes more and more prevalent in our digital culture. When you have optimized for local search, your snippet will appear as: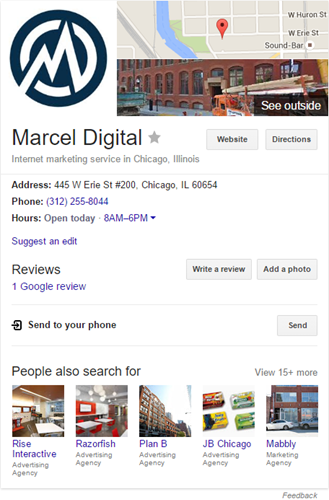 The snippet that appears on the right side of search from a branding standpoint builds credibility, as well as click through rates. It helps establish your brand and business as verified by Google as a real, living, breathing business that exists.
Building a local presence also allows you to appear in the local pack in search: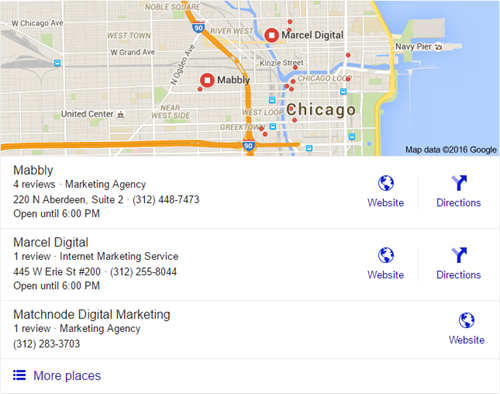 Once you have focused on building and strengthening your local SEO, you'll begin to see your local visibility increasing, especially around local searches relevant to your industry or brand. Take the time to establish your brand locally and you'll be ahead of big national brands that can't focus on the local customers like you can, giving them the attention they deserve.
Learn more about local SEO for businesses!
Take Advantage Of Schema
Schema is a collaborative effort amongst the major search engines to give webmasters and developers the opportunity to tag important bits of information on their website that can be crawled by search engines to help better understand the contents of a webpage. Search engine crawlers then return this information in the form of rich snippets, which raises click through rates and increases organic visibility.
Schema allows your to tag important information on your site:
Contact information
Logos
News articles
Blog posts
Services
Products
Reviews
And more!
When this information is tagged, you allow your website to appear more prominently in relevant searches. The beautiful thing for small to medium sized businesses? 80% of websites aren't using Schema yet. How about that? Applying Schema to your website automatically puts you ahead of 80% of not just your industry, but of ALL websites. If that's not incentive enough, I don't know what is. Pass along the above resources to your web development team, review what items you would like to tag, and get the ball rolling - you won't be disappointed!
Try Conversion Rate Optimization
Want to make a major impact on your customers, which also makes a big impact on your website goals, like revenue? I'd invite you to look into conversion rate optimization. Conversion rate optimization is a service that allows you to test assumptions and hypotheses that you think may be holding back your website's conversion rate. The way you do this is by A/B testing designs of your current webpage.
A/B testing is comparing two versions of a web page to see which one performs better. It allows your to show two versions of the same page, split your traffic, and measure which version performs better. The beauty of this is that through analytics, surveying your customers, user videos, and heatmapping, you can develop a hypothesis on why your customers aren't converting and test your assumptions.
By leveraging conversion rate optimization, you can give customers what they want, helping them convert more often! It's a long term strategy when done properly, will help your site become a lead machine! Take advantage, stay ahead of competition, and give customers what they want.
If you need help finding your conversion points, check here!
Focus On User Feedback
As a business, regardless of if you are on review sites or not, you will be hearing from customers about your service whether good or bad. Consider this to be a golden opportunity, whatever side of the coin feedback may fall on. Reason being: if feedback is good, you know what areas of your service customers are appreciating. When feedback is bad, you can quickly remedy the situation with that current customer and also takes steps to make sure that it doesn't happen again.
Customers are smart and they can tell when their complaints fall on deaf ears, and being a more accessible business than a big brand, you have the opportunity to hear feedback and act. Big brands have hierarchies that take time to make changes happen. Being a smaller business, you can quickly assess feedback and make it come to life. Take advantage of the opportunity to listen to your customers and take action. Doing so will put you light years ahead of your competition and the big brands.
Learn more about why customer engagement matters.
If you and your team ever have questions about how you can greater visibility online, feel free to contact us at any time! We are happy to help where we can and answer your questions. Marcel Digital is more than an agency, we're your trusted business advisor!