What Is This New Algorithm Update?
Google has announced that on April 21st they will be putting into place a new algorithm that focuses on a website's "mobile-friendliness" as a ranking factor. While mobile optimization and performance are nothing new in the eyes of Google and SEOs alike, this is the first time that Google has really put its foot down in terms of mobile optimization.
Google recently released statistics that report that as many as 94% of internet users use a mobile phone to look up local information, with 77% of those searches happening at home or at work. So it goes without saying that mobile-friendliness should become a standard and not just a strong recommendation.
How Does This Impact My Website?
Besides the obvious experience for your users and the overall performance of your website, Google has stated that this algorithm update will have much greater impact than the Panda and Penguin updates. Panda affected roughly 12% of all English language searches, while Penguin affected roughly 4% of the global searches across desktop and mobile devices. So yes, this update will be substantial.
Marketers and developers alike will need to be more cognizant of their mobile user experience moving forwards. This aspect of development needs to shift from an afterthought to a forethought.
How Do I Know If I Have A Problem?
Since late January / early February, Google has been sending out a steady stream of usability warnings from Webmaster Tools letting webmasters know the mobile issues on their websites and the steps required to remedy them. The emails look like this: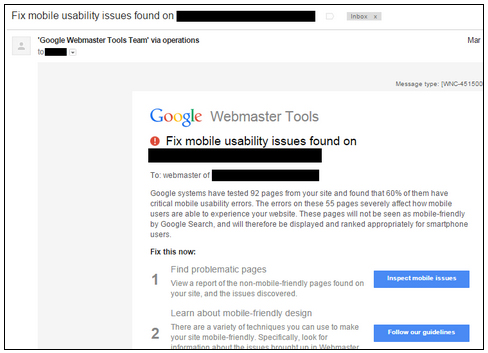 If you haven't seen this email, your site may be okay. Regardless, if you have not received an email and are curious (which you definitely should be), you can check your Mobile Usability status under Search Traffic in your site's Google Webmaster Tools: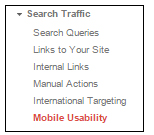 What Do I Do With The Information?
When you view your email or check under Mobile Usability (which the email notification will take you to), you will see the following graph and table in Webmaster Tools: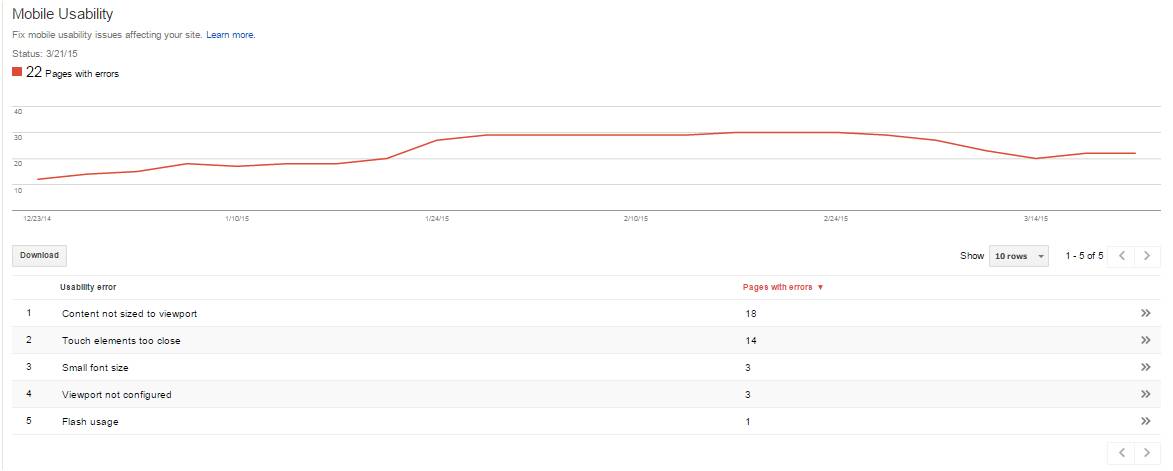 You will see a list of errors, the number of pages that have those errors, and an arrow. If you click one of the arrows or issues, you will be taken to another table with URLs cited specific to that issue and the date that those issues were detected:
As you click through the individual URLs, you will see a popup with information and links that take you to Google documentation that will walk you and your development team through the steps to take to remedy any issues: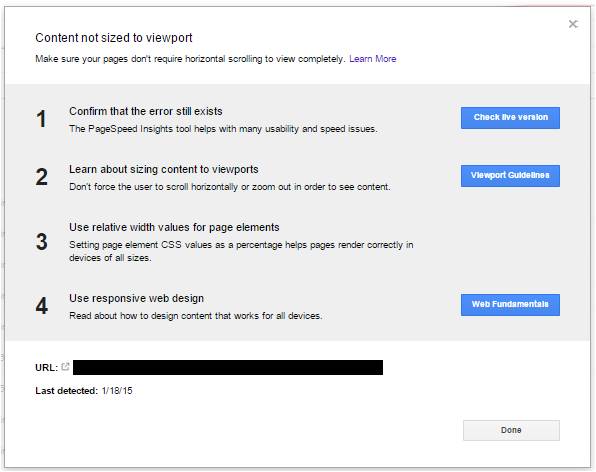 Google has also provided a Mobile-Friendly Test that you can use to check the mobile health of your website. It's a great resource to check in with periodically, much the same way that the PageSpeed Insights tool works. If you haven't checked that one out yet, you should.
I Am Not Quite Sure What To Do Or What This All Means
If you are still not sure whether you have received any notifications, or if you don't know how to check your Webmaster Tools account, feel free to reach out to me directly at pdelehanty@marceldigital.com or visit our contact page. We will gladly take a quick look and help you out.
Also, feel free to reach out to us on our Facebook page or tweet us at Twitter. Someone will be back in touch with you very quickly.
However you determine to address your issues, make sure you jump on them sooner rather than later. It is generally a good idea to heed the warning from Google in a timely fashion as they could have a significant impact on your traffic.