Photo by Mikhail Nilov from Pexels
Are you worried about business strategy during a recession? Don't discount your marketing budget just yet. A recession can even be a good opportunity to re-invest in your digital marketing mix, as it creates a natural period to reflect and evaluate your online performance and lead gen tactics. Digital marketing doesn't go away when tougher economic times hit. In fact, there's reason to believe that it will grow. Much like eCommerce during the Great Recession of 2008-2009, digital marketing could experience growth while more traditional advertising outlets decline. Just as the ease and convenience of online shopping stayed relevant post recession, we can expect digital marketing to maintain traction as consumer habits skew further toward growing online channels.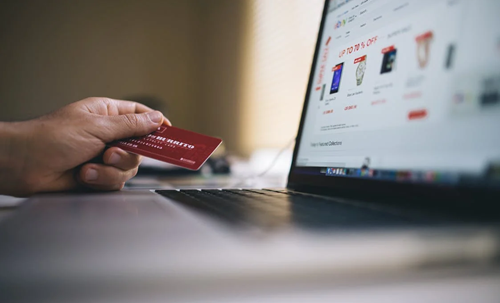 Photo by Negative Space from Pexels
The Effects of Covid-19 on Digital Marketing
As you might expect, the Covid-19 pandemic yielded positive results for digital marketing too. Forbes reports that businesses allocated more money toward digital advertising during the pandemic period as more consumer attention was online. With the pandemic creating an early boost in digital advertising before this potential recession, many organizations are now in a position to narrow down their marketing channels to generate the most leads and sales opportunities. Digital marketers are now looking to maximize budgets but not necessarily cut back. Discovering the online channels that had proven ROI during the pandemic put them in a good spot optimize and better allocate.
Optimizing Your Search Engine Marketing in a Recession
One of the best ways to increase B2B sales during a recession is through search engine marketing (SEM). The two key pillars of SEM are Search Engine Optimization (SEO) and Paid Per Click (PPC) advertising. There are advantages and disadvantages to both of these marketing techniques, but they both provide flexible and customizable spending options to help businesses make sensible decisions. This can be particularly helpful when budgets are tight during a recession. The following sections provide an overview of organic SEO and paid per click marketing, as well as why using both can work to increase sales. Let's take a deeper look.
SEO Marketing Strategy
Organic SEO marketing puts your content in front of customers who actually need your product or service. Getting top billing on Google, Bing, etc. for search terms or keywords that are relevant to your business can provide great visibility to potential customers. There are also so many ways to target your SEO marketing through keyword analysis. Digital marketers can dive into the data to find relevant search terms that are cost effective and budget friendly during a recession. 
When done correctly, SEO can be very effective–even with a fixed budget. SEO is an incredibly powerful marketing tool during a recession because it automatically attracts new, qualified leads. Organic SEO leverages keyword research to identify relevant, high-traffic search terms. Creating hight-quality content around these terms will allow your website to rank higher for the specified queries. When potential customers search these terms on Google, they will see your website at the top of the search engine results page (SERP).
The long-term benefits also play a huge part in the decision to invest in SEO marketing. Getting a strong ranking for a keyword(s) within your industry will establish credibility and raise brand awareness through and beyond any recession. Your business will not only be easier to find through search engines, you'll be laying a strong foundation to boost your specific expertise, credibility, and brand authority into the future.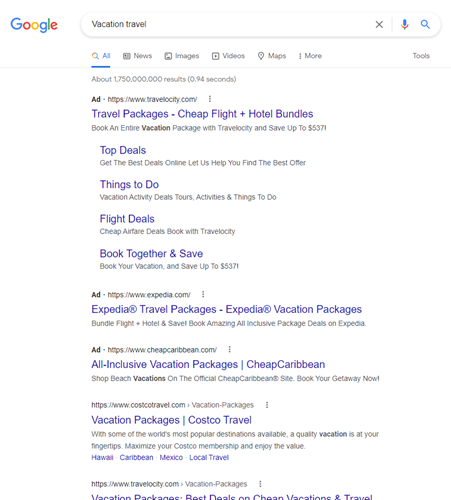 Google Search Engine Results Page (SERP)
Paid Per Click Marketing Strategy
Paid Per Click marketing is another great way to reach your target audience during a recession, or otherwise. It works similar to SEO marketing, but instead of organic search result placement, marketers can buy ad space on SERPs for specific target keywords. It's an effective and measurable way to reach potential customers and segments based on both demographics and search interests. Many organizations have a marketing mix of both SEO and PPC campaigns running in tandem for best results, and the best part is that marketers can have close control over budget parameters on each. 
The key benefit of PPC advertising is its measurability. Buyers of PPC ads can consistently measure the performance and efficiency of their campaigns, which can be helpful during a recession. Adjusting PPC campaigns on the fly to optimize results and budget is part of a successful approach. Additionally, marketing teams can pinpoint certain tactics, keywords, and demographics that deliver better ROI than others. This makes it possible for them to not only use their budgets more effectively, but also be better informed about what new leads are attributed to specific campaign elements. Test, optimize, repeat.
While PPC campaigns can be more expensive than organic SEO marketing, it is important to have a diverse mix of SEM tactics. By combining paid search and SEO strategies, you can gain more exposure and real estate on the SERP for your most important keywords. Putting PPC dollars behind related terms that you're not organically ranking for can also be effective to ensure there is some quick visibility. SEM during a recession is all about making your efforts and budget work smarter, not harder.
Social Media Marketing Strategy During a Recession
Last but not least, social media marketing in a recession can be incredibly effective. During a recession, people spend more time online connecting with people instead of attending in-person events. Historically, social media use has only grown during recessions. Facebook doubled its user base during the Great Recession, and Tik-Tok saw a 180% growth during the Covid-19 pandemic. 
Meet your buyers where they spend their time. Think of social media like shaking your customer's hands at a social event: even with minimal effort, a social media presence works to get the word out about your products and services.
Social media also offers opportunities for low-cost advertising. For example, you can boost a Facebook post for as little as $2-3 and exponentially increase your post reach. Watch Facebook for free boost incentives. 
Explore Digital Marketing Services from Marcel Digital
Marketing in a recession is an important business strategy, but it isn't one-size-fits-all. It's important to leverage audience insights to inform your digital strategy, and that looks different for every business and product. 
Our team of B2B marketers can help you build recession-proof digital marketing strategies. We provide guidance and services on a range of digital marketing channels including SEO Marketing, Paid Search Marketing and Paid Social Media Marketing. 
Not sure where to start? 
Learn how Marcel Digital will ensure your business stays on top during the recession. Contact us for a free consultation!
Contact Us