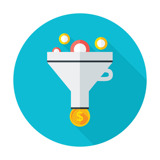 Let's face it - content marketing has gotten out of hand. As I pointed out in my article, What Is Content Noise?, content is created at an alarming rate. Here are some stats from that article on the amount of content that's created every minute:
YouTube uploads 72 hours of new video
There are over 200,000,000 email messages sent
Google receives over 4,000,000 search queries
Facebook users share 2,460,000 pieces of content
Those numbers are so large is makes my head hurt. Most of us (scratch that - all of us) marketers get upset when our content doesn't perform or convert those who read it. We put a lot of time into the content we create but at some point, we have to face the fact that that doesn't necessarily mean our content is worth reading or consuming. We have to be better, almost surgical, in our content creation, only then will our content be the conversion machine we hope it to be.
But, to start, where are we going wrong? Why aren't users who read our content converting the way we would like them to be? Simply put, we're not providing the value or information needed for our audience members to take action. It's important that we all take a step back and learn what makes a piece of a content convert, and not continue to simply create content for the sake of creating content.
Here are my tips on creating content that converts...
Find Your Target Audience
Creating content is so much more effective and resourceful when you know who you are trying to attract and what their needs are. For instance, if I am a digital marketer, and I want to help businesses and brands create more useful content for their users and their business, I'd probably write an article about how to write content that converts, right? (Insert winking emoticon here)
In order to create content that converts, you need to know the exact type of user or customer you are speaking to, what their exact needs are, how your business or product helps them, and why you're a better option than the competition. From there, decide what the overall goal for the content is. Do you want them to watch a video? Signup for an event? Purchase a product or service?
Use Emotion 
The goal of your content is to motivate your audience into taking the desired action. To do so, you must enable and inspire them to do so, and the way you do that is through tapping into their emotions. By tapping into emotions, you have created a connection in your audience's mind between your brand and that specific emotion. Do you know who does a great job of this? Budweiser…
Now, watching that, you can't help but feel something, and that's what makes marketing and content effective - the ability to connect an emotion to a brand or product. When content or offers make us feel an emotion, they make us feel connected to the brand or product and feel better about their decision to ultimately convert on your content or make a purchase.
Be Relevant
If a piece of content isn't relevant to your audience's needs or problem, then it's simply not useful to them. In order to engage your audience on a deeper level, it's your duty to provide a content experience that speaks directly to their specific business needs. When you do this, your audience is more engaged and inclined to accept you as an expert in your industry, because you're providing real value to them.
Relevancy means a lot of things to a lot of people, but in content marketing, focus on:
The issue your audience is facing
How your service or product can solve that issue
Create the content that is most useful to your audience
Use the language that they are using to describe their problem
Use calls to action that will benefit the user (and your business) most
When you create relevancy with all of the above points in check, you create a sense of security for your audience that you understand their issue or need for information and are the correct source to alleviate those needs. If you aren't hitting the above points, you're simply wasting your audience's (and your) time.
Be Urgent 
One of the most effective tools in your marketing toolbox is urgency. Urgency creates a sense of exclusivity and scarcity in our brains and causes us to take action quickly. Raising a point of urgency in your content creation or product offerings removes a lot of the obstacles that usually keep us from taking action. For instance, when we lack urgency, our target audience has time to mull over their decision, conduct more research, or simply have an "I'll get to it later" mentality that ultimately ends with them not coming back or converting.
A few ways to create urgency:
Show a deadline
Use action words - "now", "immediately", "hurry", etc
Show availability limits
Use urgent colors
A great example of a website that does this is Amazon.com:
As you can see, they make great use of numbers, showing how many people are watching this product, how many of this product have been sold, and how many people have inquired about this product. They also give you the ability to "Buy It Now", eliminating the worry of a long, drawn out checkout process. This translates in the user's mind as "easy" and "quick", two things we all love in our purchase process. Give them what they want.
Write Great Headlines
According to our friends at ConversionXL, users spend about 5.59 seconds on a website's written content, which means you have about 5 seconds to grab their attention and keep it. As well all know, the greatest content starts with a killer headline - one that grabs our eye, sparks our interest, and moves us forward. When was the last time you clicked on a headline that was boring or didn't entice your need to click? Probably a long time ago, if not, ever.
The keys to writing a great headline are simple:
Make it specific
Make it unique
Make it urgent
Make it relevant
Make it useful
Remember, a headline should tell your user everything they need to know about what they are about to read. If your headline dances around what the content is about, you lose your audience, their interest, and ultimately, their conversions.
Make It Responsive
Think about how often you are using your phone and how often you use it to conduct searches, read news, or make purchases. I'm willing to bet that you do it quite often. In fact, a study conducted by Google shows that:
45% of all mobile searches are goal-oriented and conducted to help make a decision
55% of purchased-related conversions occur within 1 hour of initial mobile search
84% of follow-up actions triggered by mobile search occur within 5 hours
81% of conversions (store visit, call or purchase) triggered by mobile search occur within 5 hours
With mobile browsing on the rise since 2009, it's no wonder that Google has emphasized a mobile compatibility as a ranking signal in 2015. Users demand that a website's functionality and layout isn't compromised by the device screen size they use, so it's more important than ever that your website's content render in a responsive design format. As we state, "Responsive design allows you to change elements on your page to respond to different screen sizes.  It changes the layout of the page based on the device the user happens to be using.  This allows you to control the user experience on different devices to give your customers the best website viewability possible."
When in doubt, go with a clean responsive design that formats to each device screen size.
(Also, protip, it's also the mobile experience Google prefers!)
Have a Conversation 
As humans, we have an innate need to connect with other humans. We're social creatures, ones that love to build relationships and find common ground that make us feel…"something", whatever it may be. Content marketing is no different - it's about connecting and empathizing with your audience, it's about providing them with real answers and solutions to their particular problems. In content marketing, you're not writing for everyone, just those you wish to have a deep connection with.
The best approach to conversational content is to listen. Start surveying your customers or clients, get involved in industry forums, answer questions, follow up with new customers, and pay attention to your (and the competition's) social channels. Then, implement what you hear in your content - show you are listening and empathize. Write about your audience's problems, the solutions, and how you can help them. Pretend you're talking to your friends or family about your topic. Don't talk at your audience, talk with them. Make a connection, be human.
Have Clear Calls To Action
Last, and perhaps most importantly, have a clear and concise call to action. Make it easy for your users and website visitors to know what the next step is in their journey with your brand. Hidden or hard to see calls to action are lost opportunities in your website's funnel, and leveraging tools like conversion rate optimization can help you pinpoint those obstacles and remedy them effectively.
While there is no set of rules to what a call to action should be or how it should look, it's important to focus on what works best for the content and the audience. Is it a pop up? Is it a form? A button? Is it above the fold? Does it follow the user or stay static?
From there, focus on the content of the call to action - what words, or a combination of words, work best? Is it long content or short? What is your headline? Whatever it may be, make sure that directions are clear in the call to action and that the user knows exactly what they are getting when they convert. Don't leave any room for questions, hesitations, or surprises. Doing this will lead to a decrease in conversions and brand equity.
Conclusion 
Remember, the goal of creating content that converts is providing real and relevant value. The content you create needs to have a purpose, and that purpose is to align your business goals with target audience's goals. Doing so will lead to a more engaging website experience that will increase the conversions through your content and give your target audience a more beneficial brand experience. At the heart of every piece of content should be a desire - for you to provide value and for your audience to feel redeemed in choosing to take a chance on your content and converting. Don't let them down. Give them a reason to convert.
If you're having trouble converting your audience and would like to learn more about how a solid content marketing strategy can help boost engagement on your website, feel free to reach out to the experts at Marcel Digital. Our team is Google Analytics Certified and are Moz Oracles (meaning we know our inbound marketing!) Feel free to reach out today - we'd love to hear more about your needs and how our expertise can help!