Telling a client or business they need a new website is a lot like telling a parent their child is ugly. It's an extension of them, they're attached, and they have absolutely every right to be. A website is a digital storefront for a brand, and they've (most of the time) put a lot of time and effort into what they believe is the optimal digital experience. But, we have to remember, as both marketers and business owners, that our websites should not be based on our preferences, but instead those of our target audiences and industry best practices.
When assessing if you need a new website, it's best to step outside and analyze your site as an unbiased third party would. Look at the data or feedback to get an idea of how users are using your website and where the signs are pointing for your next steps. Below, we list a few points that can help you navigate whether or not you're in need of a new website.
Your Website Looks Out Of Date
Having an out of date looking website is usually the primary reason for getting a new website. Functionalities, elements, or overall design that seems lacking or behind the times can usually signal to a user that the website isn't often taken care of or that the information itself could be out of date. It's best to keep your website design and layout up to date and following design best practices, as well as browsing capabilities that are now considered standards.
Need an example of out of date designs? Here is our old website: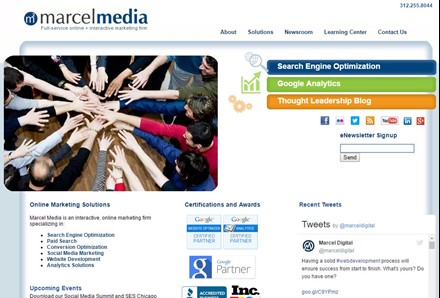 Also, while no longer relevant, here is the Clinton / Gore 96 website: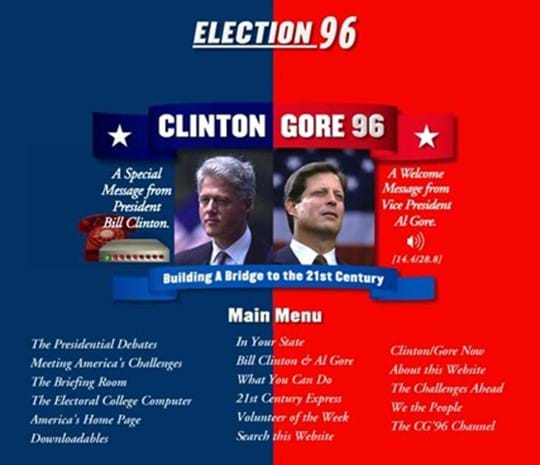 It's important to remember that the point here is if your website looks like it's something out of the 90s, it's probably time to give it a little TLC in the form of a newer, sleeker design. Web design is a huge reflection of the brand it's representing - don't appear to be inadvertently outdated as well.
Your Website Lacks Consistency
We see this a lot, especially with legacy clients that have "frankensteined" their website together over many years. The issue here is usually having multiple web developers or marketers over the years put their touches on the website that deviate from the branding and voicing consistency of the business.
Inconsistency can happen in multiple areas of a website, for instance:
Logos
Buttons
Images
Fonts
Headers
Navigation elements
Calls to action
These can all be inconsistent and send a confusing message to the user, creating a sense of being lost or your brand being lazy.
Your Website Doesn't Work On Mobile Or Browsers
Google and other search engines have put a lot of emphasis on responsive design and mobile usability, even going as far to make it a ranking factor in 2015. Now more than ever, it's important that you focus on the mobile usability of your website. Did you know, for instance, according to Smart Insights that 33% of users start with mobile research with a branded website? What this means is that most of your users and target audience members are starting on mobile when looking into your brand. If your site does not work on their mobile, or their preferred browser, you could be inadvertently pushing them to a competitor who has a seamless user experience (keep in mind, 57% of users won't recommend a business with a poorly designed mobile site).
If your website looks like this on mobile: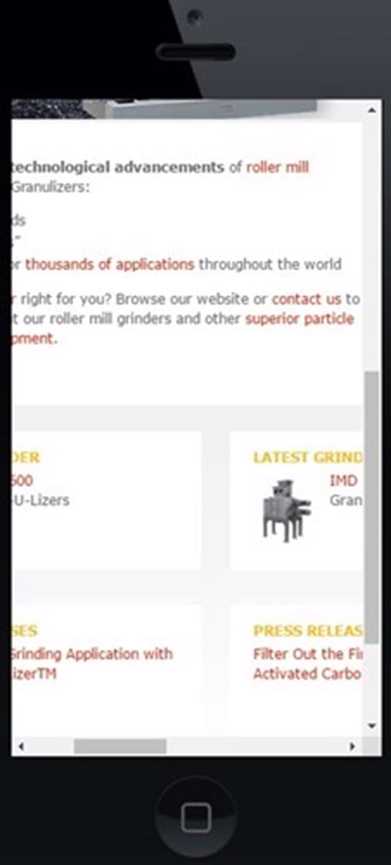 ...chances are you're in need of a new website.
Your Website Has Slow Load Times
When looking at your page load times, a good rule of thumb is "faster is better". A study done by Kissmetrics, shows that 47% of consumers expect a web page to load in 2 seconds whilte 40% of people abandon a website that takes more than 3 seconds to load. That's a huge loss when looking at traffic coming to your website and those who would otherwise convert had your website loaded within a proper time frame. 
Typical reasons for slow load times:
Poor server response times
Code bloat
Too many file requests (CSS / JS / images / etc)
Large, uncompressed images
No browser caching
An outdated CMS (see next section!)
All of the above items can lead to a slow page load time and users leaving your website before taking an action. You can check your page load times by analyzing your Site Speed report in your Google Analytics.
You Can't Update Your Content The Way You Want To
Another big reason we find that clients need is a new website is because they lack the ability to properly update the content on their website. A content management systems (CMS) is one way to alleviate this issue by way of giving you full control over your content editing capabilities. A content management system gives you more control over your website and the experience that your users will have once they land on your wesbite. You can quickly update and edit your content with a CMS and also easily add new pages along with different media like images and video.
As an Umbraco Certified Gold Partner, we highly recommend Umbraco as a solution to your CMS needs. Umbraco is a free open source CMS solution that gives you fully customizatable content creation editing capabilties, while also giving you professional core support should you run into any issues. It also gives your web developers full programming access to the Umbraco CMS which means that whatever website experience you'd like to create, can be. Take advantage of numerous extensions as well to help you reach the full efficiency of your website.
Your Users Aren't Converting
Calls to action (CTA) and next steps are important for users. Not only do CTAs get users the information they need, quickly, but they also help the user navigate your website and visually cue them for important information. We are visual creatures and our attention spans are very short. If you're not attracting users to take the actions that you want them to take, they simply won't. Calls to action come in many forms:
Banners
Images
Buttons
Videos
Signups
Downloads
Don't leave these sorts of things to chance. Services like Conversion Rate Optimization (CRO) can often help assess if these are simple element issues, or if you need a new design overall. Conversions are what your website use to tell you that important actions are being taken. They help you assess what users are interested in getting more information or becoming customers. If users are not taking these actions, it could be a sign that you need to be taking a long hard look at your website and deciding if it's a CRO issues or something more.
Your Rankings are Low
While this could be a need of a SEO expert taking a look at your website, Google and other search engines have put a lot of usability stock into their ranking factors over the year. A search engine is only as good as the results they return. If users use a search engine, and the results they return take forever to load or have a lacking user experience, they will stop using that search engine. In order to remain in search engine's good graces, you need to be mindful of your website's usability.
It's important to note that users more often search brand names than typing in domain web addresses. If you're not returning in the top 5 results for your own brand name, chances are search engines aren't putting very much stock into your website or SEO efforts. Developing your website with basic SEO fundamentals and best practices in place will do absolute wonders for your organic visibility. Being able to edit your title tags, alt tags, add Schema, create sitemaps, and develop an easy to follow navigation will not only save you hours of frustration and dollars, but will also reward you with more organic traffic from search engines.
If you feel your website needs a makeover or needs to be redeveloped, take a look at the web development services from Marcel Digital. Our team of experts are available and ready to talk about your business goals to provide you with the best possible website experience possible. Don't wait!