Many digital marketers on both the agency and brand sides know their way around their Google Analytics implementations. Answering questions like "How many organic conversions you received in the past month"? and "What are your top trafficked pages?" are great questions the Google Analytics' UI can help you answer.
To take your skills to the next level, I've outlined various Google Analytics features and best practices below you can use to gain deeper insights into your user's behavior and arm yourself with more reliable data while following industry best practices.
So, without any further adieu, let's dive in and get you some real data...
Setting Up Site Search
Assuming your website has a search bar, the first step to see if your tracking this already is by navigating within Google Analytics to Behavior > Site Search > Overview. If if see metrics, great! If not, here's how you can get this set up.
Submit a test query on your search bar and review the URL on the search results page
Find the term you searched within the URL and identify the query parameter that precedes your query (Ex. www.example.com/catalogsearch/result/?q=test). In this example, the query parameter you are looking for is "q"
Navigate to Admin > View Settings > Toggle "Site Search Tracking" to On
Enter your query parameter into the textbox self-titled Query Parameter and click Save
Give your website a few days to collect data
Site search is great for many reasons. One of my favorite ways of leveraging this data is identifying trends in your user's on-site search behavior and leveraging that to either build out new pages, expand content or update your website navigation. One type of query I've found in more than one occasion has to do with shipping. Users are looking for this information because it's not readily accessible.

Linking Google Search Console
The value of linking Google Search Console to your analytics account is it's the only way to pull search query data into analytics. In 2011, Google drastically cut down the number of keywords driving traffic to your website and that number continues to drop. Syncing your Analytics with Google Search Console will provide insights into impressions and Average position for a larger set of keywords.
A word of warning is that you're unable to pair those keywords next to aggregated data of on-page behavior metrics. For example, I cannot tie a certain search query to what page that user landed on the website. I can, however, see how my overall average position of a keyword rank trending over time.
In order to set this up, you'll first need to set up your Google Search Console. There's a few ways to do this but there are lots of great resources online like this Google Help article
Click the Admin tab and click Property Settings within the property column
Scroll down to Search Console and select "Adjust Search Console"
Select the URL of your website. which confirms that the website is verified in Search Console and that you have permission to make changes
Under Enabled Views, select the views which you want to connect with Search Console data
Click Save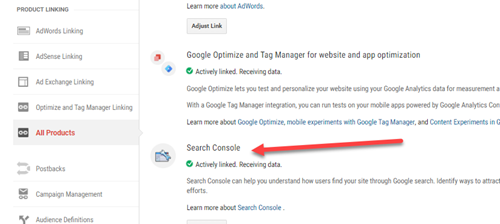 Dashboard Triggers
Dashboard reports are a great way to organize the various metrics and dimensions that mean the most to you. Once you've either created your own or imported a template, your dashboard report can be accessible within Google analytics under the "Customization" tab.
The day-to-day duties of your job may impede you from having the ability to log into Google Analytics as frequently as possible. What you can do is set up the dashboard you created to be emailed you in anywhere from once a day to once a quarter.
Navigate to your specific dashboard report you'd like to set up an email trigger
Select "email" at the top to unveil the email pop-up.
Enter information like emails you'd like to send the trigger, the subject line, frequency and the email body.
You can select the "Advanced Options" to set up how long you'd like this report set up for.
Click "Send" to set up the email trigger
Filters
Filters allow you to manipulate the data that is displayed in your various views. At the simplest level, you will want to filter out your internal IP from your reporting view. Another common filter involves forcing all of your URLs to undercase so they are not reported as separate pages in your various behavior and conversion reports. An advanced filter that may apply to your site is to filter out query parameters for your URLs as an additional way to clean up your URLs.
If your website has various subdomains that have your tracking code, you may want to consider including the hostname URL so you know which sites your users are on. Without this, you will see a homepage URL of "/" but you won't be able to tell which website they're on.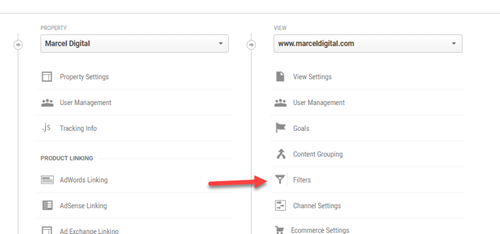 Alerts
Alerts allow you to create conditions in Google Analytics so you can always be monitoring you account even when not signed in. I find the greatest value for Alerts is to set up conditions that if conversions dip below a certain number during a certain date range so I get an email alert if performance is down or if tracking has broken. We've all been in the position of identifying tracking errors due to a number of reasons and we only find out when it's too late.
To set these up, follow these quick steps.
Navigate to the admin tab and select "Custom Alerts" under the view column.
Click "+New Alert"
Enter an Alert name and apply the alert to any additional views
Set your period, either day, week or month
Depending on the alert you're trying to set up, under "This applies to" select  "All Traffic" if you're looking to set up a site-wide alert.
For "Alert me when,"  you can select something like Sessions, Goal Completions or a specific goal.
For your condition and value, set a value based on past data. You will want to pick a number that is lower than anything you've seen historically. For example, I would want to set up a Day alert if Goal completions dip lower than 5 for a website where I may at the absolute least, get 10 conversions a day.

Leveraging Views
I've seen many cases with new clients providing us access to GA and upon review, we see they're only leveraging one view. The ideal way to approach views is you should always have at least three. An all Traffic view that does not use any filters to serve as a catchall. A second reporting view with your filters (Ex. IP). Lastly you should have a testing view that only looks at internal traffic you can use to test goals, events, etc.
There's two ways you can create a new view:
Visit the admin tab and select the drop down for view and "Create New View"
The second way involves selecting "View Settings" and "Copy View
This is best when you have many filters and goals in place you do not want to recreate or it will require little modification to meet the conditions of your new filter
When setting up your Google Analytics implementation, it's important to know exactly what you are trying to measure or track and properly layout your goals and metrics. Doing so will not only ensure that your analytics are tracking the information you need the most, but will also ensure your team has the information to make successful data-driven business decisions. Consult with your team and start prioritizing your Google Analytics implementation and underutilized optimizations.
If you need any help setting up your Google Analytics implementation, or don't quite know where to start, Marcel Digital is here to start. Our team of digital marketing experts are ready to help your team get the data that matters most to you and your business. Feel free to reach out to us today and let us handle the rest!