Comprehensive SEO Migration and Optimization Strategy for Website Relaunch
WorldPoint, an industry leading provider of comprehensive CPR and healthcare training products, as well as an authorized distributor of the American Heart Association (AHA), needed assistance in relaunching their website in an SEO friendly fashion. Their goal was to migrate 10,000 pages and relaunch their website without losing organic equity and visibility for keywords driving traffic and conversions from search.
Increase in organic traffic post-launch, year over year
Increase in keyword rankings and visibility post-launch
The Challenge
Designing a website is a grueling task. People are often focused on traditional website development concerns, such as design, content, and usability, often forgetting the importance of SEO in a website migration. They fail to put the necessary effort into an SEO migration to mitigate the risk of losing existing search equity in the move.
Having successfully executed hundreds of website migrations, Marcel Digital began stressing the importance of SEO in a website migration and putting together a strategy that would ensure a seamless and successful move from an organic perspective. 
The primary challenge for our team was migrating over 10,000 pages of content in a systematic manner. The timeframe was tight, and we needed to ensure we would not lose any organic equity.
The Analysis
With 3 months until the new website would be launched, our focus was on preparing the new website to launch in an SEO-friendly fashion, continuing to drive traffic to the existing site, and maintaining conversions from search post-launch.
Using a proprietary SEO migration scoring process, our team was able to prioritize which of the 10,000 URLs on the old website had the most equity, as well as a path to which URLs could be updated, consolidated, or redirected. We then created a comprehensive URL redirect map to seamlessly transfer all of the SEO equity they had built over time.
Here is an example of our SEO scoring process: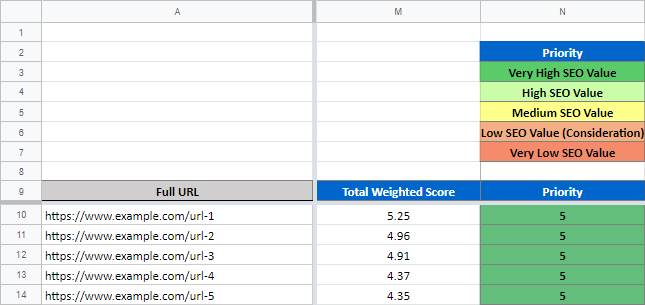 The Solution
In order to migrate the new website without losing organic visibility, our SEO experts worked closely with the Worldpoint marketing and web development teams to execute the SEO migration strategy according to a comprehensive project roadmap. This roadmap drove milestones and timelines for SEO tasks that needed to be completed in order to ensure a successful migration and launch.

These SEO tasks included:
URL structuring
Metadata
Schema markup
Full redirect mapping
Canonicals
Meta robots
Main and secondary navigation
Internal linking updates
XML sitemaps
404 page
AMP pages
Mobile-friendliness
Speed tests
We divided tasks into pre and post-launch, ensuring SEO tasks were ready for the new site and implemented correctly upon launch, showing organic growth out of the gate. 
The Results
All of the work completed by both teams paid off exponentially. We were able to show success both pre and post-launch, not only mitigating the risk of traffic losses but actually increasing organic traffic shortly after site launch. 
Once we implemented all priority migration task items on the new website, we were able to increase organic traffic by 25.42% post-launch.

We were also able to increase overall organic keyword visibility as well. This means that upon launch, the new website ranked for more keywords than prior to launch. 
This was all made possible not only by the extensive experience of our SEO experts, but also by the hard work put forth by the marketing and web development teams at Worldpoint.
Due to close collaboration and communication, we were able to seamlessly integrate with their team on the SEO migration strategy in a timely and efficient manner, ensuring all of our recommendations were implemented on time and with accuracy. 
Have Questions?
Our team would love the opportunity to hear more about your needs. Fill out the form, and we'll reach out to you shortly.