WAV, LLC is a Value-Added Distributor of world-class wireless networking technology and a provider of best-in-class support and services. Their vast array of technology products make the internet work.
The Challenge
WAV partnered with Marcel Digital to rebuild a website that had limited ecommerce functionality and hadn't seen a refresh in nearly six years. In addition to building a new website where user/shopper experience was paramount, the site also needed a sophisticated shopping cart experience built from scratch. A key component of this rebuild would be the integration with WAV's NetSuite instance to manage products, pricing, and inventory seamlessly across the US and Canada.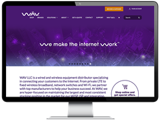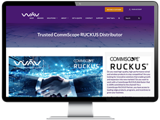 Additionally, brand and customer partnerships are very important to WAV. They needed a new site that was able to elevate certain brand products in featured sections. This function needed to be both customizable and adaptable, as seasonal sales and promotions are constantly in flux. WAV also knew that users visit their website looking for specific brand products and the associated information needed to be intuitive and easy to find, so as to not inhibit the path to purchase.
Finally, the WAV parent brand has two additional brand sites that they wanted to bring into the fold: MBSI WAV and Last Mile Gear. Three separate websites with unique layouts and functionalities had to be brought under one multi-site umbrella with this relaunch. This means designing a user experience and information architecture that made sense for three entities, not just one. Managing needs and input from stakeholders across each brand to deliver the best result would be crucial to the success of this website project.
The Analysis
From the outset, it was very clear that Marcel Digital's web development team needed to understand the nuances of WAV's product integration with NetSuite. The stakeholders from WAV's marketing and IT teams joined early discovery meetings with Marcel, which turned into regular collaborative meetings to find the best technology solutions. We needed to fully understand how NetSuite communicates with an Umbraco website to complete specific actions, like:
Pulling accurate product information
Pulling accurate inventory for products
Segmenting the products by web property
Applying customer pricing and discounts to products
Displaying accurate fees and surcharges for products
It was great to collaborate with the WAV team to build unique solutions to meet their business rules. NetSuite looks overwhelming at first, but we were able to work together to extract the required information for the users to get the information they needed.
Beyond the technical element, a series of workshops were also held to help both Marcel Digital and WAV understand the ideal shopping experience before it was even built. Our team needed to grasp what was working in the current environment and what was not. We took the time to understand the challenges of WAV's three unique brands to find solutions that would meet the needs of each in one new CMS.

In addition to discussions with the WAV stakeholders, the Marcel team also utilized Google Analytics data to better understand their existing site visitors. This information helped Marcel tailor the new ecommerce site with path-to-purchase data from the real customer actions that were happening on WAV's existing site.
As with all Marcel Digital web projects, SEO was also top of mind for the new WAV sites. We examined their existing content and page structure to inform our process and help WAV maintain domain authority across all three brands. The Marcel Digital SEO team also had to consider how a new product page structure could benefit their SEO through key categorizations.
The Solution
Marcel Digital designed a brand new ecommerce website with intuitive information architecture. One that was mobile friendly, brand-compliant, and easy for both users and admins to navigate.

A Successful NetSuite Integration
The early conversations we had around NetSuite and ecommerce informed a custom shopping cart integration for all three brands: WAV, MBSI, and Last Mile Gear. Not only did this collaboration help deliver the best possible shopping experience for their customers, but it also built a solution that was easy to manage internally for the WAV teams using software and processes they were already used to.
Through a successful integration with NetSuite, all product listings are now accurately pulled into the web stores while accounting for a variety of unique specifications. Product inventory is updated in real time on the WAV sites, along with pricing and current promotions.
Another benefit of the dynamic NetSuite integration is in the ability to account for pricing their products outside of the United States. MBSI WAV is the Canadian arm of WAV's business, which needs to implement a currency exchange rate within their web store on the same CMS. This presented a unique challenge to the team, but it was resolved smoothly through early discovery and collaboration. As a result, the MBSI WAV shopping experience not only lists product pricing in Canadian dollars, but can also apply any related tariffs associated with purchases made outside of the country.
Displaying both currencies on the site proved to be a challenge as some of the data within NetSuite was tailored only to one currency. Solving this using their existing currency conversion table, being leveraged in other parts of the system, allowed us to stay consistent with their internal workflows when computing these properties on the web.
Optimizing UX for Brands and Resources
While the NetSuite integration was a key logistical component to the new website's shopping experience, the UX and information architecture elements were also upgraded significantly. As noted earlier, WAV places a lot of importance on their partnerships and the ability to showcase certain brands on the site was non-negotiable. The improved UX and attention to detail in the navigation menu makes it easy for shoppers to find brand-specific products. Moreover, it allows WAV and their subsidiaries to prioritize specific brands and promotions on an ongoing basis with a flexible and user-friendly Umbraco instance.


WAV's content resource library was also re-designed as part of the new website. This was an important piece of the SEO migration, as the resource library consisted of useful assets for customers. These assets included blogs, videos, a webinar series, product datasheets, and more. The resource library was built with key filters to help users locate desired assets. Plus, the Umbraco CMS was set up to allow the WAV team to tag resources to specific brands to ensure that visitors can locate the information they need effortlessly.

The success of the Information Architecture can be visualized in the website's custom mega navigation. Site visitors are presented with an intuitive five-item drop down menu that leads with the ecommerce shop selection. Users have the option to shop all products or search by category and brand right in the navigation menu.
While the navigation menu makes the web shop the most dynamic and featured option, the other menu items allow users to easily locate information like solutions, verticals, resources, and company information about WAV.
A Seamless Shopping Experience
All of these elements come together to create an intuitive shopping cart experience, regardless of the shopper's familiarity with WAV and their brand partners. New users can easily locate products by category or brand, while experienced shoppers can search by name or model number.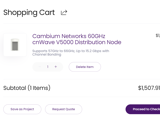 A Helpful Customer Portal
One of the aspects the WAV team was excited about was the introduction of a customer center. After logging into the website, the customers would have access to their order history, basic account information and forms to reach out to their sales or technical representative. 
One problem we faced when working on the order history was the ability to bring up a customer's invoice generated from NetSuite on demand. This was not out of the box functionality provided by NetSuite. Working together with the WAV team we crafted a SuiteScript to be able to accomplish this task and make it available to our integration for customers.
The Results
The launch of WAV's new website wasn't the end of the process either. Marcel Digital set the WAV team up for success with more sophisticated Google Analytics tracking, unlocking the ability to track purchase behavior and optimize their marketing into the future. The SEO team also did a full crawl of the site to ensure all content was optimized and that all pages were accounted for and applied to the new site properly. Additionally, all WAV team members were trained how to use the new Umbraco CMS optimally. Marcel Digital left no stone unturned before we handed the keys over to the WAV.
Have Questions?
Our team would love the opportunity to hear more about your needs. Fill out the form, and we'll reach out to you shortly.