Ongoing SEO Strategy, Including On-Site, Off-Page, and Content, For Leading Futures Trading Company.
Chicago based futures brokerage RJO Futures were seeing incredible organic returns from the ongoing SEO strategy and efforts of the experts Marcel Digital. To do this, we honed in on continuous optimizations to onpage and off-site SEO elements of the site, but when shifting focus to a more stringent content strategy, we were able to boost ROI exponentially.
Increase in organic traffic year over year
Increase in organic conversions year over year
The Challenge
Marcel Digital has had the pleasure of being RJO Futures' SEO partner for over 10 years, establishing ourselves as a valued digital extension of their marketing team. Through an in-depth understanding of their website and technical pain points, we've developed a comprehensive integrated on-site and offpage SEO strategy that has increased RJO Futures organic traffic by 317% from 2018 to 2020 over 2015 to 2017. This increase in traffic also proved to be more qualified, resulting in over 1,500 new leads over the same time period.
Now, for all intents and purposes, these numbers are staggering and led to a substantial increase in business for RJO Futures, it's brokers, and trading platform, but Marcel Digital knew that on-site and offpage efforts would only get us so far, and in order to really boost the ROI of our SEO efforts, we need to shift focus to an in-depth content SEO strategy. We'd have to present data to the RJO team to showcase the benefit of shifting focus and what our projected increase would be in that shift.
The Analysis
Since the technical aspect of RJO Futures' website was sound and providing a solid foundation to our ongoing SEO strategy, we decided to focus more heavily on content ideation and creation that would continue to grow the organic visibility of the RJO Futures website over time. 
In order to find data points and insights that showcased sustained, long-term SEO growth through content, we consulted the best in class SEO tools we use on a daily basis. These tools include:
SEMRush
Google Search Console
Moz Link Explorer
And more. From there, our approach would be twofold when it came to content strategy:
Research and develop new content
Optimize content currently living on the website
First, we looked at tools like SEMRush and Google Search Console to see what keywords RJO Futures was within "striking distance" for - meaning keywords that had a good amount of search volume every month and had rankings within the first 3 pages of search results. We would also take a look at what keywords competitors were ranking for and if RJO Futures had that content. The mindset here regarding competitor content analysis:
If we didn't have the content, create it
If we did have the content, make it better than the competition's
We then took a look at Google Analytics to see which pages on the site saw drops in organic traffic over the years or still had steady traffic and why this was happening. Our goal here would be to not only improve the rankings for keywords those pages were appearing for and build traffic back up to those pages, but to also increase the potential for rich snippets that would increase organic visibility and click-through rates from search results. This would require content updates, as well as some technical implementations through Schema.
Lastly, we used premier backlink analysis tool Moz Link Explorer to conduct rigorous research on competitor's backlink profiles to see where opportunities are for RJO Futures to improve visibility based on obtaining the same backlinks and what content we would need to do so.
What we found was that RJO Futures' had built enough organic equity over time that if they created certain pieces of content, further optimized existing content, and were able to obtain certain backlinks, they'd be able to capture higher rankings and overtake competition in key industry searches. This meant more rankings, more traffic, and more conversions from search engines.
All of these tools, data, and insights continue to help shape our SEO strategy and answer this important question for Marcel Digital - "Along with ongoing SEO optimizations, what content can we be creating with RJO Futures that will have a long-term impact on their organic visibility?"
The Solution
When we presented the data to the RJO Futures team with specified projects for pieces of content we wanted to develop based on our research, they were all on board. To get started, we created an editorial calendar that prioritized what content needed to be created or optimized, what 
Our content strategy for SEO would focus on key areas of the RJO Futures website, including:
These areas of the website allowed us to create timely, informative, and longer pieces of engaging content to include keywords and search phrases that prospective customers were actively using to find the RJO Futures website.
We worked with the RJO Futures content and marketing teams to ensure that all prioritized content was created in a timely manner and distributed through all marketing channels to get the most eyes as possible on it. The SEO experts at Marcel Digital would then further optimize the content by formatting to meet Google's best practices, such as title tags, headers, internal linking, and visible calls to action,, as well as implement schema to help search crawlers better digest the content.
We would further ensure that content was gaining as much organic visibility as possible through extensive backlink profile optimization. This means that once a piece of content was created, we'd reach out to high-quality, industry relevant publications to obtain backlinks to RJO Future's content. The publications we would reach out to were prioritized from the backlink analysis we conducted for page ranking for focus keywords in search results, as well as RJO Futures' competition.
As content was created, we would also update the sitemap XML and ensure it was being crawled on a daily to weekly basis in Google Search Console to get it indexed as quickly as possible.
The Results
Our content recommendations and optimizations have seen huge traffic and conversion increases in 2020. For instance, not only were we able to increase overall organic traffic to the RJO Futures website by 181.64%, just over 45,000 users from search, our content recommendations to the Learning Center of the website lead to a 861.23% increase in users, clocking in at 31,000 users, year over year to date.
Overall organic traffic increases to the RJO Futures website:

Organic traffic for the Learning Center included an increase of 862% in traffic and 253% increase in conversions: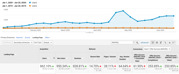 Organic traffic for the Futures Markets pages included a 470% increase in traffic and a 283% increase in conversions: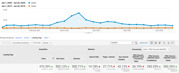 We also obtained rich snippets for RJO Futures that lead to high clickthrough rates from search, including 10-year treasury futures: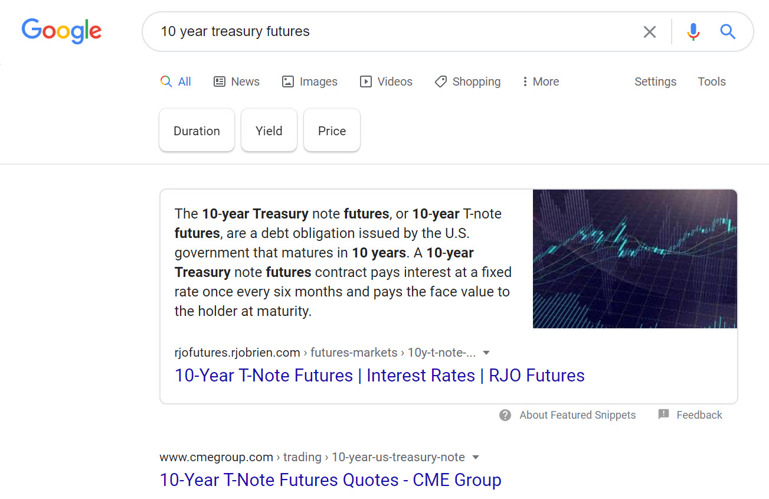 Heating oil futures: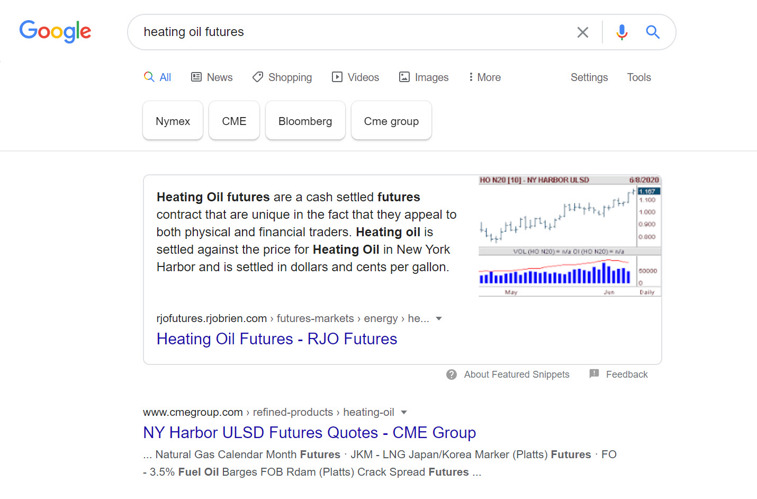 And durable vs non-durable goods training resources: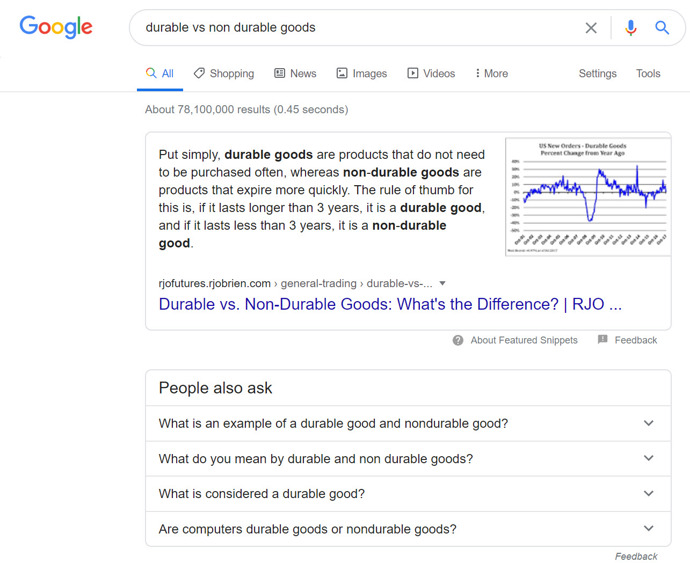 As of June 2020, we're still developing new pieces of content to capitalize on organic visibility opportunities we find in our ongoing monthly research and analysis, working closely with both internal and external content teams. We're continuously watching industry trends as well as new opportunities in search to continue these substantial increases in organic traffic and conversions, including them in our long-term content strategy.
Have Questions?
Our team would love the opportunity to hear more about your needs. Fill out the form, and we'll reach out to you shortly.