Increase in overall conversions
The Challenge
As an association that thrives on its website collecting leads from visitors requesting more information about joining, IFMA's website simply wasn't. The website had many user experience and conversion barriers, including aesthetics, content organization, and the overall functionality of the website.
At a strategic level, IFMA needed a website that not only conveyed their brand essence consistently throughout, but solidified their values on being a servant leader, interdependence, and empowerment. But most importantly, they wanted to drive more conversions and leads through their site, promoting all revenue stream to its current members and prospects, including memberships, event programs, and research assets. IFMA came to Marcel with one focus: to develop a website that removed barriers, increase overall engagement, and drive membership.
The Analysis
Marcel quickly got to work with the IFMA team, conducting interviews with key stakeholders to discuss what areas of the website we'd focus on tackling first with a new website. We decided that focusing on usability would be our top priority to increase membership overall. The questions we needed answered:
What were the biggest pain points members and prospects were facing?
What areas of the design and website could we simplify?
How could prioritize content and calls to action to drive more conversions?
We began by putting Hotjar on the IFMA website to get heat and scroll mapping data that would show where users were having the biggest issues in navigating the website while trying to find the information they needed to convert and request more membership information. We also focused on user videos that went beyond the data and show us exactly how users were navigating the IFMA website. We also took advantage of user surveys to directly ask users about their experience on the IFMA website, focusing on what they did and did not like about the website.
Armed with this information, we went to the drawing board and began roadmapping a strategy to create a website for IFMA that would drive more brand awareness, boost overall engagement, and increase conversions and membership. This strategy included developing wireframes that would inform a stripped down design, focusing on prioritizing important sections and content on the IFMA website, while giving prominence to important calls to action.
The Solution
Our focus was to reorganize content and simplify the site to allow users to navigate and find information easily. Marcel was able to dissect the data from our analysis of their old site and segment core revenue streams for IFMA into easy to use sections of the site. We started by creating a condensed information architecture that users could easily navigate to find important information they needed to convert.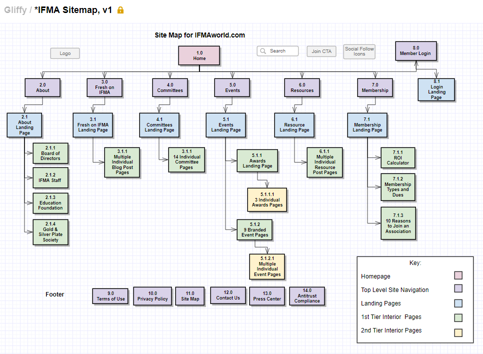 From there, we began creating wireframes for priority sections and pages of the website that users would interact with most, including:
Homepage
About Us
Staff Members
Societies
Education
Search Results
Our conversion analysis informed us that a bright red "Join Now" button was the optimal call to action to drive users to sign up for membership. We would give prominence to this membership call to action by placing the button in the upper right corner of the page to drive users to convert. We would also supply various pieces of content with red calls to action to other resources. This would keep users engaged and moving through the website, while always keeping important calls to action within their view as they scroll through the pages, with the end goal being continuously funneling users to membership signup.
The Results
Not only did our new design result in higher levels of engagement with bounce rates decreasing by 67% and time on site increasing by 52%, but overall conversions increased by 81%! This meant more users were:
Contacting IFMA
Requesting more information
Filling out committee forms
Using the ROI calculator
Using click to call
Sending emails
By adding enhanced forms to the site, we were able to boost leads overall and also made IFMA's nurturing cycle efficient, as they were able to quickly make contact with prospects as they reached out. So far since launch in October 2018, IFMA has received thousands of requests for more information about joining the organization overall. 
But it wasn't simply because of forms. The new and improved content structure to the website was also able to increase food manufacturer membership, as it quickly lead prospects to receive Event, Resource, and Committee information they were searching for. All of these areas are now substantially easier to get to and find information, due to our custom filtering implementation for Resources and Events, as well as special login access for private Committee information. 
Have Questions?
Our team would love the opportunity to hear more about your needs. Fill out the form, and we'll reach out to you shortly.