Building Highly Optimized and Targeted Service Pages to Drive More Conversions and Revenue From Search.
With over 20 years of experience, Arbour Group is a leading provider of regulatory compliance products and services for the life sciences industry. Wanting to build organic visibility around solution-based keywords that drive qualified leads from the life sciences industry, they worked with the SEO experts at Marcel Digital to create highly targeted service pages and conduct massive backlink cleanup.
Increase in organic traffic year over year
Increase in goal completions
The Challenge
Arbour Group challenged Marcel Digital to build organic visibility for solution-based keywords that drive qualified leads from the life sciences industry. There are specific business suite enterprise platforms/software that need compliance and validation services to ensure security, and these were the services Arbour Group wanted to specifically improve visibility for. For example, focus keywords would include "SAP compliance solutions" and  "FDA compliance and validation service" type queries.
As Arbour Group provides compliance and validation solutions across different verticals including pharmaceutical, medical devices, biotechnology, and diagnostics, with competitors that include Oracle, SAP, FDA, and Parasoft, they had their work cut out for them from a search engine result standpoint. It was clear to the SEO experts at Marcel Digital that in order to build organic visibility around these searches and verticals, we'd need to completely overhaul content on the Arbour Group website, while also conduct more in-depth SEO audits across technical and off-page SEO.
The Analysis
Our SEO team got to work consulting data and insights from a host of best-in-class SEO tools and platforms on what we could do to help improve visibility. These tools include:
We started by lining up Arbour Group's organic traffic and rankings with Google algorithm updates. What we found in our analysis was that Arbour Group had decreases in rankings and traffic around the time of an earlier Penguin algorithm update. We compiled their backlinks and found malicious, spammy backlinks sending negative quality signals to Google and lowering overall trust with search engines, lowering rankings in the process.
We also analyzed the user intent behind searches Arbour Group was trying to rank for and found that they did not have an optimized, unique copy to sufficiently target these terms. Pages had been built out for each enterprise system/platform that Arbour Group wanted to work with but this was following a "cookie cutter" model where text was duplicated across all these pages, leaving little differentiation.
The Solution
The SEO experts at Marcel had the information they needed to develop a custom SEO strategy. We'd first get to work conducting a comprehensive backlink audit where we would not only remove spammy and irrelevant backlinks but also update valuable out-of-date backlinks to correct URLs where search equity could flow freely through the Arbour website.
While we conducted our backlink analysis and audit, we also began creating new, highly-targeted pieces of content that would focus on services lines and industries Arbour Group wanted to increase visibility for. We did this by updating content to be unique to each service line while also reflecting the search intent of users coming to the page. We also made sure that the keywords we wanted Arbour to appear for we present in title tags, headers, the body of the content, as well as the schema we built for each individual page.
From there, we continued to build blog content that was topically relevant to each service line, including internal links to service/industry pages to pass along search engine equity. We also began conducting a highly targeted link-building campaign to blog and service pages to help build organic visibility for key search terms and phrases.
The Results
After shifting our focus to developing highly targeted and optimized service page content around high priority products, we saw a substantial increase in organic visibility for solution-based keywords that drive qualified leads from the life sciences industry and non-branded keywords. For instance, we were able to:
Increase organic traffic 22% 2019 over 2018
Increase organic traffic 149% 2019 over 2016
Increase goal completions by 120%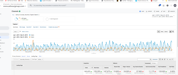 Not only that, we were able to establish several 1st page rankings for 'FDA Compliance and Validation' type rankings with our FDA compliance service page.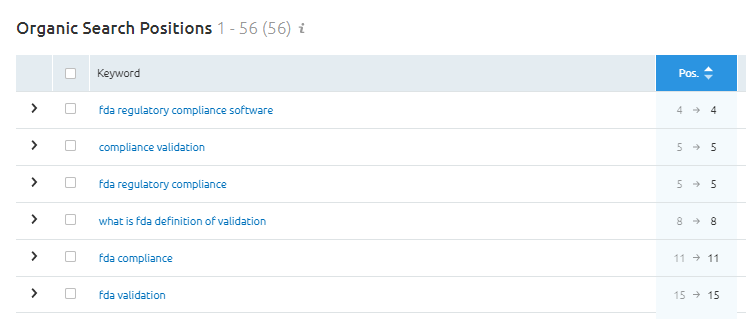 These increases in rankings lead to direct increases in traffic and conversions overall. Since then, we've began conducting in-depth conversion rate optimization (CRO) testing to increase leads even further, and revamped Arbour Group's paid media strategy.
Have Questions?
Our team would love the opportunity to hear more about your needs. Fill out the form, and we'll reach out to you shortly.