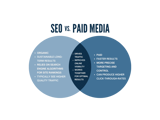 In the world of digital marketing, SEO and Paid search are two of the most critical components for driving traffic and improving online visibility. However, despite their shared goal of boosting a company's online presence, many businesses still operate their SEO and paid teams separately, hindering the effectiveness of their marketing efforts. This can result in missed opportunities, wasted ad spend, and inefficiencies. In this blog, we will explore why integrating SEO and paid can lead to a more effective strategy and how working together leverages the strength of both teams.
SEO vs. Paid Search
SEO and Paid search are two distinct approaches to driving traffic to a website. SEO is the process of optimizing a website's content, structure, and other factors in order to rank higher in organic search results. Paid search involves creating and running paid ads on search engines, such as Google or Bing, to increase visibility and drive traffic to websites. 
SEO and paid search share common goals but differ in many ways, including cost and immediacy of results. SEO requires more time and effort but can provide more sustainable long-term results. On the other hand, paid search tends to produce more immediate outcomes but can be costly. Paid search also allows for more precise targeting and control, which can result in higher click-through rates. SEO relies on search engine algorithms to determine website ranking and can generate higher-quality traffic. 
How SEO and PPC Work Together
So how can SEO and Paid Search integrate? One of the most straightforward ways for SEO and Paid Search teams to work together is through keyword research. The goal of keyword research is to find terms users search for and use that data to optimize web pages and search marketing campaigns. 
Keyword research is vital to both SEO and PPC teams so they are reaching the right users. It is also necessary that SEO and Paid Search work together so that the keywords targeted are complementary, and one is not cannibalizing the other. Below we'll discuss a few ways SEO and paid search can integrate using keyword research.
Creating Organic Content Around High Performing Paid Keywords
A great place to start when integrating SEO and PPC efforts is looking at keywords converting or gaining a lot of traffic with paid search and targeting those in organic content. By focusing on highly-convertible keywords, organic can further optimize for conversions. According to Ruler Analytics, in the B2B Services industry, organic search has an average 7% conversion rate versus paid search with a 5% conversion rate. This proves that high-performing paid keywords will likely convert even more users when targeted by organic search. We will show you how to use Google Analytics to find these Paid keywords later.
Bidding On Competitive Organic Keywords
When keywords are challenging to rank for organically, Paid search can intercept and bid on those keywords. PPC can help SEO by reducing the time it would take for your website to gain visibility in the Search Engine Results Pages (SERPs). This allows you to drive traffic to your website from the keywords you are targeting, even when you haven't reached the top of the search results. 
Bidding On Keywords Your Website Already Ranks For Organically
Bidding on keywords your business already ranks for is a strategy that lets you dominate the SERPs. It's a way to increase user confidence and awareness of your brand while simultaneously giving less space for competition to appear. With competition less visible to users, you may drive more website traffic and conversions.
When your website is ranking for a non-branded search query, having a paid search ad at the top further instills confidence for users that you are experts in the area. For example, for the term "website migration services", Marcel Digital ranks top of the SERPs. When our paid search ad is shown, we are able to take up the majority of the first fold, telling users that we are the top choice for this service and diverting them from the competition.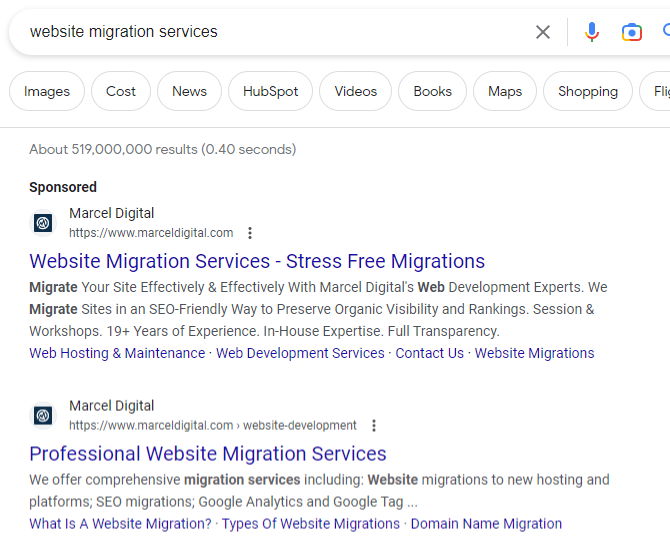 Other benefits of bidding on terms you rank for organically include using paid search data to further optimize organic search campaigns. Paid search ads allow you to test new ad copy and find other keywords your potential customers might be using and converting through, allowing you to optimize organic content to match. Because SEO is a long-game, being able to utilize paid search data is crucial for quick optimizations and targeting.
This is also a popular strategy for branded keywords. In the example below, you can see Marcel Digital takes up the entire first fold of the search result page for queries like "marcel digital agency,", with an organic result, paid search ad, and a Google Business profile.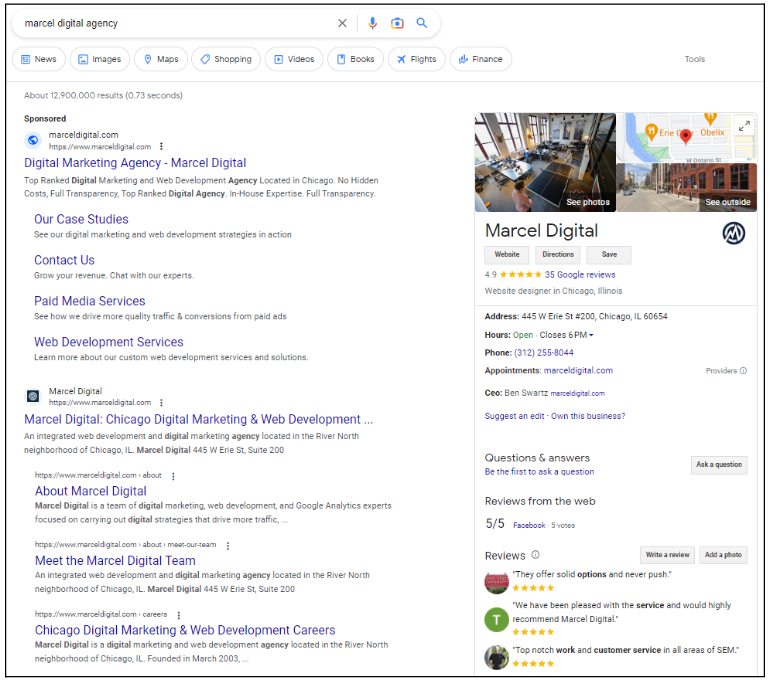 It is important to keep in mind the relationship between SEO and paid search when focusing on the same keywords. While it can help you dominate the search results page, it can also lead to cannibalization. When you're ranking organically for branded keywords for example, cannibalization can occur when you introduce paid search advertising on the same keywords and users begin to click on the paid ad instead of the organic result. This results in a decline in traffic for organic search.
SEO and Paid Search teams must work together to develop a strategy for these terms, and know when to adjust strategy if cannibalization is occurring. Other factors, like competitors bidding on your brand, will influence the strategy of using both paid search and organic for certain keywords. This is why it is crucial for Paid Search and SEO teams to be integrated and collaborate regularly.
Creating Organic Content Targeting High CPC Keywords
Paid keywords with high CPCs, or cost-per-clicks, can aid in organic content creation. A high CPC can increase paid media costs if you continue to out-bid other competitors on those search keywords. By creating organic content centered around these keywords, you can create evergreen web pages that can rank on SERPs – all without spending money on ads. This is an important strategy if your paid media budget is low and the daily budget is spent before the end of the day. When ads stop running due to low budget, that is a good indication that you could start to focus on those keywords on the organic side.
Remarketing Organic Users With Paid Search
One of the more advanced ways to integrate paid search and SEO is through remarketing (RSLAs). In this strategy, paid search is used to re-engage users who have interacted with and clicked through your website organically. These users are further along in the marketing funnel and already know of your brand, so they will have a higher chance of converting and are worth investing in. 
By building on your SEO efforts with paid advertising, you are staying top-of-mind with users who have already engaged with your content. It also provides the opportunity to deliver highly personalized ads to these users.
An Optimized Website Creates a Better Experience for PPC Users
Optimizing a website with keywords and phrases that both SEO and Paid Search teams target will create a better user experience for both audiences. 
Website performance optimizations such as increasing site speed, reducing page load time, and improving mobile-friendliness will benefit both SEO and PPC performance. When users have a great website experience, they are less likely to bounce and more likely to return. 
Marcel Digital is a fully integrated agency beyond just SEO and Paid search. Our web development, design, and data and insights teams all work in tandem to achieve the best results for our clients. Our websites are built with SEO and PPC performance in mind, touching on all aspects of site performance and health that are crucial to success in these areas of marketing. 
How to Use Google Analytics to Integrate Paid and SEO
Our data and insights team uses Google Analytics to power our SEO and Paid services and deliver essential insights to our clients. Google Analytics is a powerful tool that you can use to monitor your PPC and SEO integration strategy, providing you with a more holistic view of your website's performance. By tracking paid and organic traffic in one place, using paid search keywords to optimize for SEO content, utilizing assisted conversion tracking, and working in Google Analytics 4 (GA4), you can increase the effectiveness of your marketing campaigns.
Utilize Assisted Conversions
Assisted conversions occur when a user interacts with your website through multiple channels before converting. For example, a user may find your website through a paid media ad, then return to your website through organic search before purchasing a product or filling out a form. Google Analytics provides data on assisted conversions through the Assisted Conversions Report. You can find this in UA by clicking Conversions > Multi-Channel Funnels > Assisted Conversions.
In GA4, click Advertising > Conversion paths to view data in a similar report.
These reports allow you to analyze the number of assisted conversions, their values, and the channels involved in the conversion path. You can identify which channels drive the most assisted conversions and optimize your marketing efforts accordingly.
Use High Converting Paid keywords As SEO Focuses
One of the best ways to integrate Paid and SEO is through the Keywords report in Google Analytics. To see these keywords in Universal Analytics, click Acquisition > Campaigns > Paid Keywords.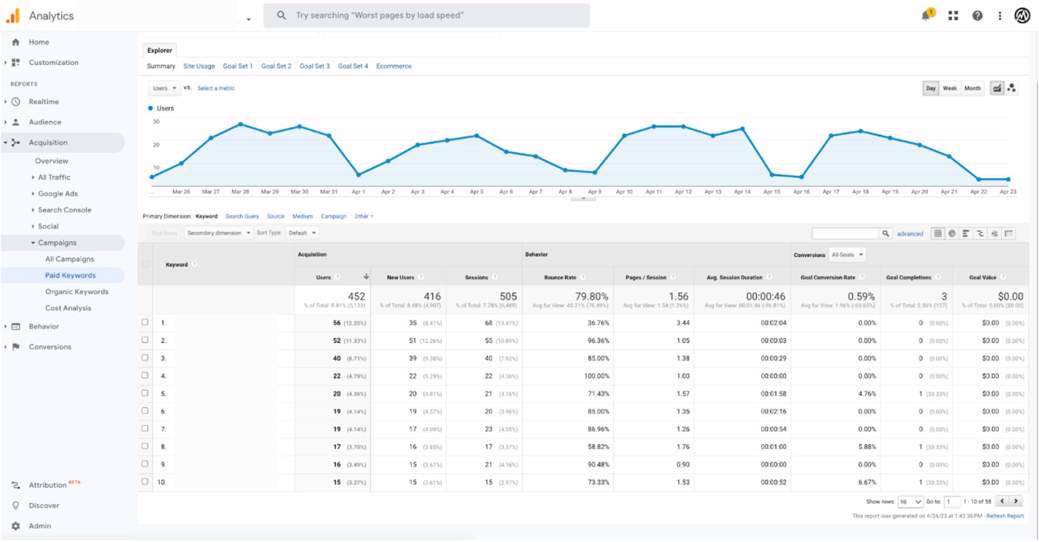 This report shows which paid keywords are pulling a lot of visitors to your website and which keywords have a high conversion rate. This can be a great starting point for your SEO team to focus on writing content around those keywords.
Google Analytics 4: Better Paid and SEO Integration
With Google Analytics 4 (GA4), you can better understand the effectiveness of your marketing and optimize your marketing strategy. GA4 has an enhanced user journey analysis, which allows you to see how users interact with your website across multiple channels. Similar to the assisted conversions report, the user journey report in GA4 lets you understand how users move through your website and which channel they come from. Optimize Smart's User Explorer Guide provides greater detail on how to view this data.
Google Analytics 4 also allows you to optimize targeting by creating custom audiences. These custom audiences can be based on user behavior and demographic data, which can help optimize paid and organic search targeting more effectively. Google also provides "Suggested audiences," pre-created audience segments that may give you additional insight.
Google supplies a great resource that explains how to set up these custom audiences. 
Starting July 1, 2023, GA4 will be the only Google Analytics iteration that captures and processes data. The sooner you migrate over to GA4, the better. Unlike past iterations of Google Analytics, GA4 requires a whole new setup. Migrations can be stressful, but don't worry – our team of analytics experts are here to help. You can read more about our migration process and how we can partner with you on our Google Analytics Migration services page.
Integrate With Marcel Digital
At Marcel Digital, we're all about integration. We know the importance of collaboration and communication between our SEO and paid media teams, and we are constantly working together to help our clients succeed in these departments. Whether through keyword research or utilizing Google Analytics to monitor your PPC and SEO strategy, integration is undeniably valuable. Want to learn more about our SEO, paid media, or Google Analytics services? Contact us today!
Get In Touch
Need an SEO expert to create and execute a customized strategy to drive higher quality traffic and leads to your site? Fill out our form and one of the members of our SEO team will be in touch!