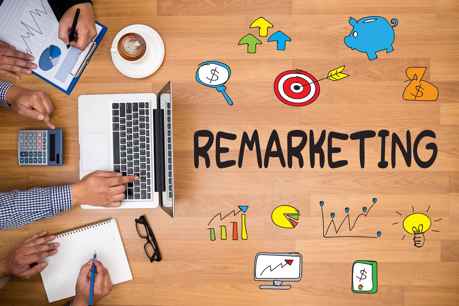 Have you ever shopped for something online only to see ads for that product appear on practically every website you visit? Of course you have. Those ads, based on your shopping history, are an example of remarketing, the digital advertising practice of showing a product to a past shopper to keep their attention and encourage them to make a purchase.
What is Google Remarketing
Google Remarketing, also known as Google retargeting, is a method of PPC (pay per click) marketing that shows your ad to your previous customers and site visitors. These can be people who simply viewed your home page, people who put items in their shopping cart and never completed the transaction, or previous customers. With remarketing, your ads will appear on Google paid search results, on websites that belong to the Google AdSense Network, and on Google-owned properties like YouTube and Google Maps.
How Does Google Remarketing Work?
Google Ads makes it easy to remarket to those customers who have left your site without making a purchase, especially if you already work with Google Ads for other types of pay per click marketing. To use remarketing with Google Ads, all you have to do is...
Have a Google Ads account. To use Google ads retargeting or remarketing, you need to set up a Google Ads account if you don't already have one. To do this, visit ads.Google.com.
Add a piece of Pixel code to your website. The next step is to add a piece of code to your website pages. This code, assigned by Google, is placed on all of your pages and gets added to your website visitors when they visit via a cookie. You can customize this code so that every page has its own code or you can make a generalized offer like "buy now and get free shipping."
Track your results via Google analytics. It's that easy.
The beauty of working with Google for your remarketing is the broad reach. Google maintains that its network reaches 92 percent of internet users.
Types of Google Remarketing Campaigns
There are a variety of types of remarketing. These include...
Standard remarketing: The most common type of remarketing, this shows your generic ad to past site visitors and customers on other sites as they browse the web.
Dynamic remarketing: Dynamic remarketing takes standard remarketing up a notch by showing your previous site visitors an ad for the specific product they were looking at on your site.
Remarketing lists for search ads: This type of remarketing shows ads for your company to those internet users who are searching for products similar to yours.
Video remarketing: Video remarketing shows ads to those internet users who have viewed videos on your website or videos you've posted on YouTube through YouTube advertising.
Customer list remarketing: This function allows you to upload your customer contact information to Google. Then, when someone on your contact list signs into Google, they are eligible to see your ads across different Google products. If you're wondering when should you use remarketing lists for search ads, the answer is when you want to highly refine your target list. (Note: You can disable this function for customers who opt out of information sharing.)
What Are the Benefits of Google Remarketing?
There are several important benefits to using remarketing. First and foremost, the practice markets to those who already have an interest in your product or service and, thus, are more likely to make a purchase if they revisit your site. In addition, remarketing:
Helps create better brand awareness. By keeping your company's name and product in front of customers, they are more likely to turn to your brand when they need something you sell, even if they aren't in the market right now.
Has a greater click-through rate and conversion rate than traditional PPC marketing. Google claims marketing to repeat site visitors has a two to three times higher click-through rate than marketing to new customers.
Is cost-effective. By having a higher conversion rate, you'll get more sales for each advertising dollar you spend. You'll get better results for your Google advertising cost.
Has a lower ad fatigue rate. Ad fatigue is the point at which consumers have seen your ad so many times they ignore it or are even annoyed by it. Google says that remarketing ads have a lower ad fatigue rate than traditional PPC ads.
Has a large reach. With Google remarketing, you can each your site visitors and potential customers across a variety of channels and even on multiple devices.
Tips for Creating Stellar Google Remarketing Campaigns
So, how do you use remarketing to make a difference in your business? We'll share a couple of ideas about how you can apply this dynamic tool to beef up your bottom line.
Spend the time to create new ads specifically for your retargeting campaign. While it's easier to just show your visitors the same ad that they've seen before, it's much more interesting to them, and effective for you, to see a new ad. Maybe you want to create an offer just for your previous visitors... but you don't have to. Just seeing a different ad can be all it takes to prompt them to return to your site and make a purchase.
Address common customer objections in your ad copy. Improve your click-through rate by addressing common customer objections right in your ad. This way you're clearing the path for them to click to your website and complete their purchase. For example, if you sell tankless water heating systems, a common objection may be that the system is too expensive. Counter that with statistics about how much money and energy such a system saves the average household.
Offer your customers a deal with a limited time frame. You already know that they are interested in your products. Give them that gentle push that they need to finalize their purchase by making a limited-time offer. This might be free shipping, a percentage off their total sale or a gift with purchase. Make the time frame relatively short, a few days at the max, so that it communicates urgency.
Consider discount codes and coupons. Graphics sell. Consider presenting your limited time offer in the form of a coupon with a discount code that customers can use for things like free shipping and a percentage discount on merchandise. Make sure that your website is already set up to recognize the code before your ads go live. Few things are more frustrating for a customer than researching a discount code only to have the website tell them it's invalid.
If you're ready to take your PPC marketing to the next level, we suggest Google remarketing. This marketing tool can help you strengthen your brand and reach those customers who are most likely to buy from you. To learn more about this and other ways that PPC marketing can boost your bottom line, give us a shout - we'd love to help!