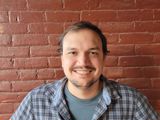 Will graduated from the University of Montana with a degree in Management of Information Systems. Originally he worked for Edulog out of Missoula and helped support their Bus Routing Software. Will's interest in AdTech and Analytics started when a company called LumenAd, now known as Pathlabs, popped up in Missoula. Will is Google Analytics and GTM certified and strives to bring the greatest and latest in tracking solutions to his clients.

Born and raised in Butte, MT, Will enjoys playing games with his friends and listening to DnD podcasts like Dungeon and Daddies. Will likes to spend time on his back porch reading comics and enjoying the sunshine. In the winter you can find him cocooned up with some hot chocolate and listening to holiday music. 
Don't worry about losing. If it is right, it happens – The main thing is not to hurry. Nothing good gets away.
John Steinbeck
Fun Fact
Took a ping pong class in college, still not that good but it was very fun
Something You Hate
The ticking sound in clocks
Favorite Pastime
Sitting on a porch in the spring/summer
Favorite Restaurant
Flippers - Burgers, Beer, and Ranch
Favorite Song To Dance To
Shout - The Isley Brothers
Favorite Nicholas Cage Movie
I have only seen Ghost Rider when it first came out
Most Famous Celebrity Met
First Job
Sylvan Learning Center when I was 13, my Dad owned and ran it at the time
What You Wanted to Be When You Grew Up
A bagger at a grocery store