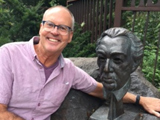 Terry has been in the Talent Acquisition business since 2001, initially working for one of the largest international staffing firms Randstad and then under his own brand The Faherty Group. At one time or another, he has recruited talent in almost every professional niche and for every size employer. For the past decade, he has been focused exclusively on Digital Marketing and most recently is focused on building his skill set in the areas of Early Talent / College Recruiting and Equity Awareness.
Favorite Vacation Spot
Oahu, Hawaii, specifically while based from Waikiki beach keeping things Kama'aina.
Favorite Beverage
Served at Perilla on Milwaukee Avenue. It's called "an old friend," It's nice to visit with an old friend every now and then. It's one of those drinks you could NEVER make at home.
Favorite TV Show
BoJack Horseman or This Is Us. It's a tie for different reasons.
Hidden Talent
In my twenties, I dabbled with Stand Up Comedy and writing. My best friend made a career of it.
Weird Fact
Me, my uncle, and my nephew were all born on the same day. (Different years however.)
Fun Fact
I sold all my possessions and moved to Honolulu at the age of 25.
Favorite Pastime
A day at the beach with a good book or podcast.
Favorite Nicholas Cage Movie
American Treasure strictly because of great memories watching it several times with the kids.
Most Famous Celebrity Met
Charlotte Rae - Mrs. Garrett on The Facts Life. I dated her niece back in the day.