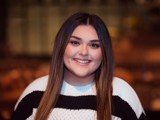 Mackenzie is a result-oriented Project Manager, with experience in B2B and direct consumer strategy. She started her career in Marketing for a global insurance company where she gained experience managing multichannel projects, including website development, digital services, email marketing campaigns, and new product development.
Through being able to understand the wider picture, Mackenzie has earned a reputation as a meticulous project manager, balancing multiple deadlines while maintaining an organized, yet creative approach.
In effort to create balance in her life outside the office, Mackenzie enjoys remaining spontaneous on the weekends. You'd most likely find her wandering through Chicago's street festivals, scouring through thrift stores, catching shows at local music venues, and spending time with her labradoodle puppy.
Don't compromise yourself. You are all you've got.
Janis Joplin
Favorite Vacation Spot
Anywhere with good hiking trails 
Hidden Talent
I play 3 musical instruments 
Weird Fact
I was a competitive cheerleader throughout my entire childhood 
Favorite Pastime
Journaling and listening to podcasts
Favorite Song To Dance To
Favorite Nicholas Cage Movie
Most Famous Celebrity Met
First Job
Swim & Water Aerobics Instructor
What You Wanted to Be When You Grew Up
An international pop sensation