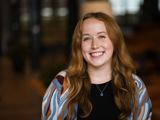 Kendall recently joined Marcel's Digital Marketing Associate Cohort as a new grad from Indiana University. At IU, she studied Marketing, Sustainable Business, and Digital & Social Media Business Applications. Throughout her life she has found her motivation from working with and helping others, and utilized her skills in creative problem-solving, adaptability, and a passion for learning to push-forward projects within her University and Business Organization. She is excited to continue her use of these skills at Marcel Digital, and increase her skillset.

In her free time she loves to get outdoors, whether that be a walk with friends, lunch at the park, paddle boarding on the lake, or hiking! She is looking forward to exploring the city more and finding some great sights to inspire future paintings, and delicious foods to elevate her cooking.
Fight for the things you care about, but do it in a way that will lead others to join you.
Ruth Bader Ginsburg
Favorite TV Show
The Queen's Gambit, I Think You Should Leave, Love Island
Hidden Talent
I danced competitively for 15 years
Weird Fact
I was in a hip hop crew for 3 years
Fun Fact
I am fluent in American Sign Language
Something You Hate
Lack of spacial awareness
Favorite Pastime
Anything involving crafts (Painting, knitting, coloring, embroidery, etc.)
Favorite Song To Dance To
Favorite Nicholas Cage Movie
Most Famous Celebrity Met
First Job
Working at a frozen yogurt shop
What You Wanted to Be When You Grew Up