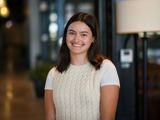 Kate graduated from University of Wisconsin-Madison with a degree in marketing and digital studies, where she focused on data analytics and digital marketing. Through her past customer service, admin, and bar/food service roles, she has developed effective communication and organization skills which have benefitted her in professional endeavors as well. She is always looking to take on new challenges and step in to help with any project.

In her free time, Kate enjoys going on walks, playing tennis, and hanging out with friends. As a new Chicago resident, she is excited to explore the city and find new favorite spots to drink and eat!


Everyday may not be good, but there's something good in every day.
Alice Morse Earle
Favorite TV Show
Rupaul's Drag Race, Broad City, Love Island
Fun Fact
I have horrible eyesight (think Velma in Scooby Doo)
Favorite Pastime
Playing tennis or cooking
Favorite Song To Dance To
Favorite Nicholas Cage Movie
Most Famous Celebrity Met
What You Wanted to Be When You Grew Up
A veterinarian or a dentist