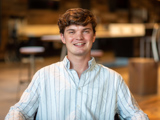 Joe is a graduate of the University of Wisconsin-Madison, studying Computer Science with a focus in web development and UI/UX. Through his past project and internship experiences, he has developed strong skills in designing clean, user-friendly web and mobile applications. Beyond writing code, Joe's summers as an overnight camp counselor have shaped him into a problem solver that loves to put a positive spin on everything.

In his spare time, Joe finds peace in producing music, jamming on the guitar, or playing a round of disc golf.

It's better to regret what you have done than what you haven't.
Paul Arden
Favorite TV Show
Breaking Bad or I Think You Should Leave
Hidden Talent
Did Karate for most of my childhood
Weird Fact
I had all four wisdom teeth removed, then two extra came in
Fun Fact
No relation to the Hershey company, my great grandfather changed our last name from Herschowitz to Hershey
Favorite Song To Dance To
Unwritten by Natasha Bedingfield
Favorite Nicholas Cage Movie
Most Famous Celebrity Met
First Job
Cook/cashier at the local pool
What You Wanted to Be When You Grew Up