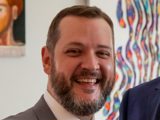 Born and raised in Omaha, Nebraska, Derek has called Chicago home for the past two decades. Derek has previously worked as an actor, as an arts administrator and as an administrative assistant. (He prefers jobs that start with the letter 'A'.)
In his free time, Derek enjoys writing, thrifting, hiking and watching television. Derek resides in the Irving Park Neighborhood of Chicago with his husband, Josh, and their dog, Leo.
Anything you do, let it come from you. Then it will be new. Give us more to see...
Stephen Sondheim, Sunday in the Park with George
Favorite Vacation Spot
Somewhere nature-adjacent but with a pool & hot tub
Favorite TV Show
Tie between 30 Rock & The Muppet Show
Fun Fact
Hiked roughly 427 miles of the Appalachian Trail over 7 weeks in 2018
Favorite Song To Dance To
Don't Stop Me Now by Queen
First Concert
Weird Al Yankovic & The Monkees
Favorite Nicholas Cage Movie
Most Famous Celebrity Met
What You Wanted to Be When You Grew Up