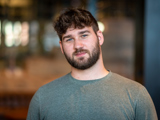 Dan has spent his entire professional career in digital marketing, as an SEO Specialist. During his time as an SEO Specialist, Dan has overseen SEO campaigns for a number of industries ranging from private wealth management to five star restaurants. Prior to graduating from the University of Cincinnati, he gained marketing experience working at high profile sports events including the World Series and the McDonald's All American Game.
Every time you are able to find humor in a difficult situation, you win.
Favorite Challenge Food
In high school two friends and I won a t-shirt for eating 7.5lbs of ice cream.
Hidden Talent
I can fall asleep instantly on any plane.
Weird Fact
I'm a pizza snob, I refuse to eat Dominoes and Pizza Hut
Fun Fact
I'm exactly half way done visiting all the States.
Something You Hate
Waking up before my alarm goes off
Favorite Song To Dance To
Favorite Nicholas Cage Movie
Most Famous Celebrity Met
What You Wanted to Be When You Grew Up
Professional Soccer Player