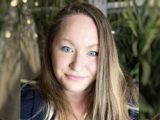 Robyn started her digital marketing career in Chicago, fresh out of college at Northern Michigan University. She has over 15 years of experience in paid media, search engine optimization, Google Analytics, Amazon, Shopify & more. Her success in the industry can be attributed the strong relationships she builds with her clients and her team & being a consistent, honest resource for everyone she works with.

Robyn has had the pleasure of speaking at many industry conferences including PubCon, SMX, Hero Conference, Internet Summit, DigiMarCon and more. She's also been a guest on multiple industry podcasts & has appeared as a contributor in some of the industry's top news sources.

Robyn enjoys spending time with her husband, daughter & son. If not working you'll find her hanging out with friends & family, planning future trips, starting a new project that she'll inevitably forget about or going for bike rides around Chicago with her kids.
You only live once, but if you do it right, once is enough.
Mae West
Favorite Beverage
Pineapple & Jalapeno Margarita
Favorite Challenge Food
Not a food, but I could legit drink a gallon of milk a day
Weird Fact
I have 128 cousins, with more on the way
Fun Fact
I sang the national anthem at a Pistons game in 2005
Something You Hate
Wet socks & people that litter
Favorite Song To Dance To
Anything playing on my kitchen speakers
First Concert
REO Speedwagon, Journey & Styx (I was probably around 10 yrs old)
Favorite Nicholas Cage Movie
Most Famous Celebrity Met
Not a celebrity per se, but in 2013 I had a dance off with Alexis Ohanian at a post-convention Snoop Dogg show. I am an embarrassingly terrible dancer so not only did I make a fool of myself, but he won by a landslide. 
What You Wanted to Be When You Grew Up