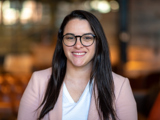 Alyssa has built her marketing career managing projects across many different industries. From non-profits and hospitality to fintech startups and social change organizations, Alyssa has gained experience working with clients from a multitude of business sectors.
Weaknesses are just strengths in the wrong environment.
Marianne Cantwell
Favorite Challenge Food
Is lasagna an acceptable option?
Hidden Talent
I'm pretty solid at home renovations and repairs
Weird Fact
On the first international flight I ever took, I was randomly bumped to first-class
Fun Fact
I lived next door to Bill Murray for a summer
Favorite Pastime
Rowing in college and being terrible at it
Favorite Restaurant
Mitches Tavern in Raleigh, NC
Favorite Song To Dance To
Wannabe by the Spice Girls 
Favorite Nicholas Cage Movie
Most Famous Celebrity Met
Bill Murrays Gardener. Unfortunately never met the man himself.
What You Wanted to Be When You Grew Up