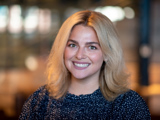 Grace graduated from Utah Valley University where she earned a degree in Communications with an emphasis in Journalism and Media Studies. She started her media career managing media accounts and creating content for various start-up companies and non-profit organizations. She later gained experience in paid media working on hundreds of political campaigns across the country. Grace is passionate about the paid media industry and is excited to be apart of the Marcel Digital Team.
Do the best you can until you know better. Then when you know better, do better.
Maya Angelou
Favorite TV Show
Parenthood or Schitt's Creek
Hidden Talent
I'm fluent in Mandarin Chinese
Weird Fact
I've had Typhoid Fever in a developing country
Fun Fact
I was voted "most likely to go into debt for excessive shopping" in high school.
Favorite Song To Dance To
September - Earth, Wind & Fire
Favorite Nicholas Cage Movie
I have never seen a Nicholas Cage movie
Most Famous Celebrity Met
What You Wanted to Be When You Grew Up