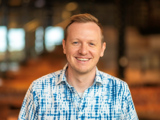 Dan has worked in content marketing since 2015. He has a passion for finding creative and data-informed solutions through writing and tech. Prior to establishing a digital marketing career, Dan worked as a freelance writer where he built a strong foundation as a storyteller. Connecting brand personality to digital assets is the core tenet of his approach. He has a proven track record of helping organizations grow their brand via digital content, engagement, and SEO best practices.
I can give you a lot more reasons to grow beans. And will. But there's no rush, we've got all summer.
Joe Pera
Hidden Talent
I can throw a football pretty well.
Weird Fact
I believe in vibes, energy, big foot, aliens, modern medicine, etc.
Fun Fact
I co-produced an independent comedy show for three years.
Favorite Pastime
Making pizzas/cooking in general
Favorite Song To Dance To
One More Time by Daft Punk
Favorite Nicholas Cage Movie
Most Famous Celebrity Met
What You Wanted to Be When You Grew Up