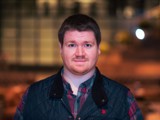 Cody is a seasoned veteran of digital marketing and SEO. Before finding his passion for search marketing, Cody gained experience in SEM, email marketing, social media, and influencer marketing, and now prides himself as a full-stack digital marketer. Always looking for the latest tactics and tools, he has earned certifications in Google Analytics, BrightEdge, Yoast, and HubSpot.
During his career in SEO, Cody has overseen campaigns for Fortune 500 companies and across numerous industries ranging from consumer electronics to fashion and apparel. When it comes to search marketers, you'd be hard pressed to find someone more thorough and inquisitive than Cody. His versatility and natural curiosity keep him on the cutting edge of the latest search trends and best practices in the industry.
The world is my country, all mankind are my brethren, and to do good is my religion.
Thomas Paine
Favorite Vacation Spot
Wherever my wife takes me
Weird Fact
Before finding my way in digital marketing, I was in Future Farmers of America
Fun Fact
I've been cave diving in Mexico
Favorite Pastime
Playing Frisbee with my Pup
Favorite Song To Dance To
First Concert
Quiet Riot & Twisted Sister
Favorite Nicholas Cage Movie
Most Famous Celebrity Met
What You Wanted to Be When You Grew Up